While We Were in Lockdown...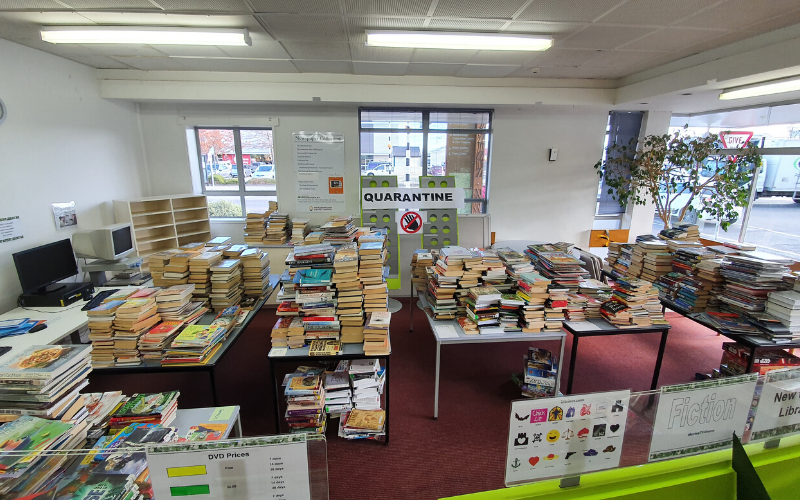 Although the library was closed during Alert Level 4 and Alert Level 3 we were busy behind the scenes working to keep things moving and deliver services when we could.
Prior to entering Alert Level 4 we sanitised the buildings and equipment. Professional cleaners conducted a thorough clean of the buildings.
From the first day of Alert Level 4 on 26 March, through to 21 May, four staff were part of the Civil Defence Welfare Team. They worked throughout this time (initially doing seven days a week) to assist those in need within the Marlborough region.
Throughout all stages of the lockdown we were receiving returns through our after hours returns chutes.
More staff returned to the library on 28 April, when we reached Alert Level 3. At this time the entire collection was tidied and ordered in preparation for reopening. Items coming out of the 72 hour quarantine were processed each day. On the busiest day we processed 1,067 items.
We also prioritised deliveries to all our existing housebound customers. In addition to these members, all over 70s in Blenheim, Renwick, Grovetown and Picton whose cards had been used during 2020 were phoned and offered a delivery of library items.
Staff selected and delivered over 160 bags of books to the over 70s and their households over two and a half days.
At the start of Alert Level 2 on 13 May we provided a "request and collect" service for customers who had holds available for collection. All customers were phoned when their items were ready and a collection time was arranged.
From Monday 25 May the libraries reopened for borrowing and returns with limited hours.
Now we have moved to Alert Level 1 we will return to our full range of services and resume our normal opening hours (including weekends) from Monday 15 June.