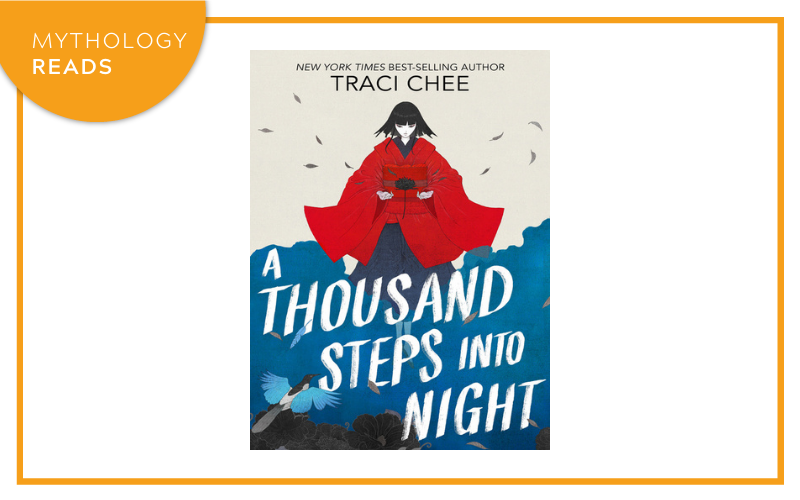 A Thousand Steps Into Night by Traci Chee
Available on Libby
From New York Times bestselling author and National Book Award finalist Traci Chee comes a Japanese-influenced fantasy brimming with demons, adventure, and plans gone awry.
In the realm of Awara, where gods, monsters, and humans exist side by side, Miuko is an ordinary girl resigned to a safe, if uneventful, existence as an innkeeper's daughter.
But when Miuko is cursed and begins to transform into a demon with a deadly touch, she embarks on a quest to reverse the curse and return to her normal life. Aided by a thieving magpie spirit and continuously thwarted by a demon prince, Miuko must outfox tricksters, escape demon hunters, and negotiate with feral gods if she wants to make it home again.
With her transformation comes power and freedom she never even dreamed of, and she'll have to decide if saving her soul is worth trying to cram herself back into an ordinary life that no longer fits her... and perhaps never did.
See if A Thousand Steps into Night is available on Libby or place a hold
Set Fire to the Gods by Sara Raasch
Ash is descended from a long line of gladiators and she knows the brutal nature of war firsthand. But after her mother dies in an arena, she vows to avenge her by overthrowing her fire god, whose temper has stripped her country of its resources. Madoc grew up fighting on the streets to pay his family's taxes. But he hides a dangerous secret: he doesn't have the earth god's powers like his opponents. His elemental gift is something else -- something that hasn't been seen in centuries. When an attempted revenge plot goes dangerously wrong, Ash inadvertently throws the fire and earth gods into a conflict that can only be settled by deadly, lavish gladiator games, throwing Madoc in Ash's path. She realizes that his powers are the weapon her rebellion needs -- but Madoc won't jeopardize his family, regardless of how intrigued he is by the beautiful warrior. But when the gods force Madoc's hand, he and Ash uncover an ancient war that will threaten more than one immortal -- it will unravel the world.
See if Set Fire to the Gods is available on our catalogue or place a hold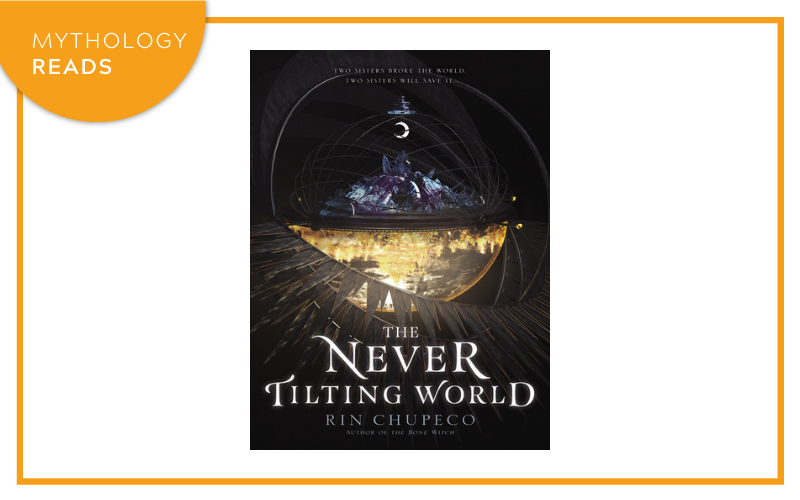 The Never Tilting World by Rin Chupeco
Available on Libby
A world split between day and night. Two sisters who must unite it. The author of The Bone Witch kicks off an epic YA fantasy duology perfect for fans of Furyborn.
Generations of twin goddesses have long ruled Aeon—until one sister's betrayal split their world in two. A Great Abyss now divides two realms: one cloaked in eternal night, the other scorched beneath an ever-burning sun.
While one sister rules the frozen fortress of Aranth, her twin rules the sand-locked Golden City—each with a daughter by their side. Now those young goddesses must set out on separate, equally dangerous journeys in hopes of healing their broken world. No matter the sacrifice it demands.
Told from four interweaving perspectives, this sweeping epic fantasy packs elemental magic, star-crossed romance, and incredible landscapes into a spectacular adventure with the fierce sisterhood of Frozen and the breakneck action of Mad Max: Fury Road.
See if The Never Tilting World is available on Libby or place a hold
Lore by Alexandra Bracken
For centuries, Zeus has punished the gods with a game called the Agon, which turns them mortal for one week, and at the mercy of being hunted by those with godly ambitions. Only a handful of the original Greek gods remain, the rest replaced by the mortals who killed them and ascended. After her family's sadistic murder by a rival bloodline, Lore escapes and vows to repay her parents' sacrifice by doing one thing - surviving. For seven years, she has pushed back dark thoughts of revenge against the man responsible for their murder, a man by the name of Wrath who has attained unimaginable power. Except for one week, every seven years. A week that is fast approaching ... When Lore comes home on the first night of the Agon to find Athena gravely wounded on her doorstep, the goddess offers her an alliance; they have a mutual enemy, after all. But as the world trembles under the force of Wrath - a god with the power to destroy all of humanity - will Lore's decision to bind her fate with Athena's come back to haunt her?
See if Lore is available on our catalogue or place a hold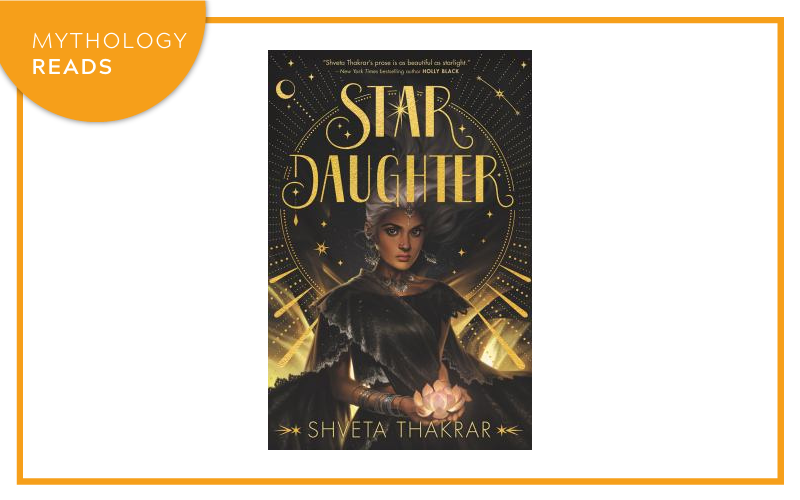 Star Daughter by Shveta Thakrar
This gorgeously imagined YA debut blends shades of Neil Gaiman's Stardust and a breathtaking landscape of Hindu mythology into a radiant contemporary fantasy.
The daughter of a star and a mortal, Sheetal is used to keeping secrets. Pretending to be "normal." But when an accidental flare of her starfire puts her human father in the hospital, Sheetal needs a full star's help to heal him. A star like her mother, who returned to the sky long ago.
Sheetal's quest to save her father will take her to a celestial court of shining wonders and dark shadows, where she must take the stage as her family's champion in a competition to decide the next ruling house of the heavens—and win, or risk never returning to Earth at all.
See if Star Daughter is available on our catalogue or place a hold
Loki: where mischief lies by Mackenzi Lee
Before the days of going toe-to-toe with the Avengers, a younger Loki is desperate to prove himself heroic and capable, while it seems everyone around him suspects him of inevitable villainy and depravity... except for Amora. Asgard's resident sorceress-in-training feels like a kindred spirit—someone who values magic and knowledge, who might even see the best in him.
But when Loki and Amora cause the destruction of one of Asgard's most prized possessions, Amora is banished to Earth, where her powers will slowly and excruciatingly fade to nothing. Without the only person who ever looked at his magic as a gift instead of a threat, Loki slips further into anguish and the shadow of his universally adored brother, Thor. When Asgardian magic is detected in relation to a string of mysterious murders on Earth, Odin sends Loki to investigate. As he descends upon nineteenth-century London, Loki embarks on a journey that leads him to more than just a murder suspect, putting him on a path to discover the source of his power—and who he's meant to be.
See if Loki is available on our catalogue or place a hold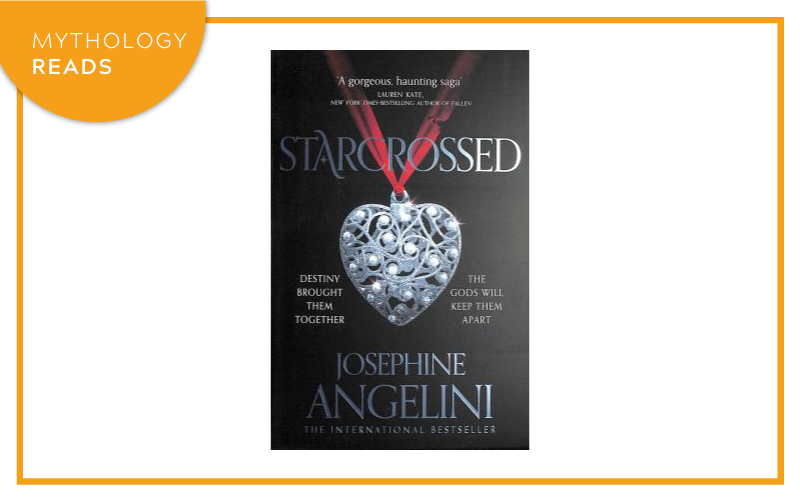 Starcrossed by Josephine Angelini
How do you defy destiny?
Helen Hamilton has spent her entire sixteen years trying to hide how different she is – no easy task on an island as small and sheltered as Nantucket. And it's getting harder.
Nightmares of a desperate desert journey have Helen waking parched, only to find her sheets damaged by dirt and dust. At school she's haunted by hallucinations of three women weeping tears of blood… and when Helen first crosses paths with Lucas Delos, she has no way of knowing they're destined to play the leading roles in a tragedy the Fates insist on repeating throughout history.
As Helen unlocks the secrets of her ancestry, she realizes that some myths are more than just legend. But even demigod powers might not be enough to defy the forces that are both drawing her and Lucas together—and trying to tear them apart.
See if Starcrossed is available on our catalogue or place a hold