Pride Month - Rainbow Reads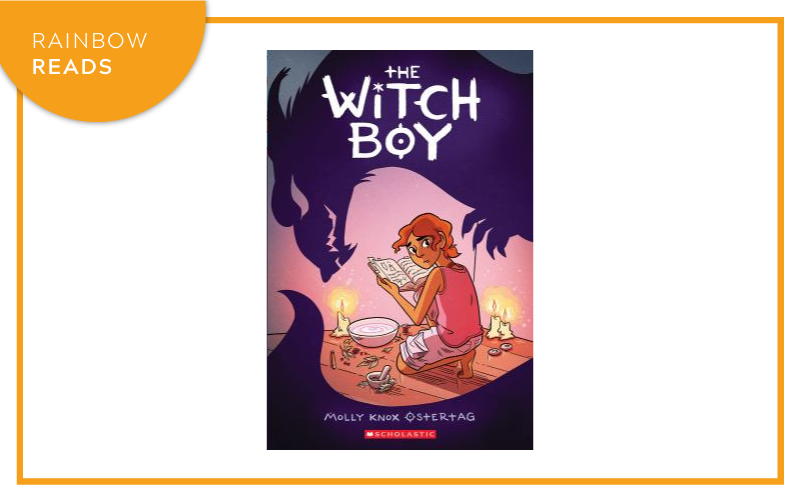 The Witch Boy by Molly Ostertag
In thirteen-year-old Aster's family, all the girls are raised to be witches, while boys grow up to be shapeshifters. Anyone who dares cross those lines is exiled. Unfortunately for Aster, he still hasn't shifted... and he's still fascinated by witchery, no matter how forbidden it might be. When a mysterious danger threatens the other boys, Aster knows he can help, as a witch. It will take the encouragement of a new friend, the non-magical and non-conforming Charlie, to convince Aster to try practising his skills. And it will require even more courage to save his family... and be truly himself.
See if The Witch Boy is available on our catalogue or place a hold
The Girl from the Sea by Molly Ostertag
Fifteen-year-old Morgan has a secret: She can't wait to escape the perfect little island where she lives. She's desperate to finish high school and escape her sad divorced mum, her volatile little brother, and worst of all, her great group of friends...who don't understand Morgan at all. Because really, Morgan's biggest secret is that she has a lot of secrets, including the one about wanting to kiss another girl. Then one night, Morgan is saved from drowning by a mysterious girl named Keltie. The two become friends and suddenly life on the island doesn't seem so stifling anymore. But Keltie has some secrets of her own. And as the girls start to fall in love, everything they're each trying to hide will find its way to the surface...whether Morgan is ready or not.
See if The Girl from the Sea is available on our catalogue or place a hold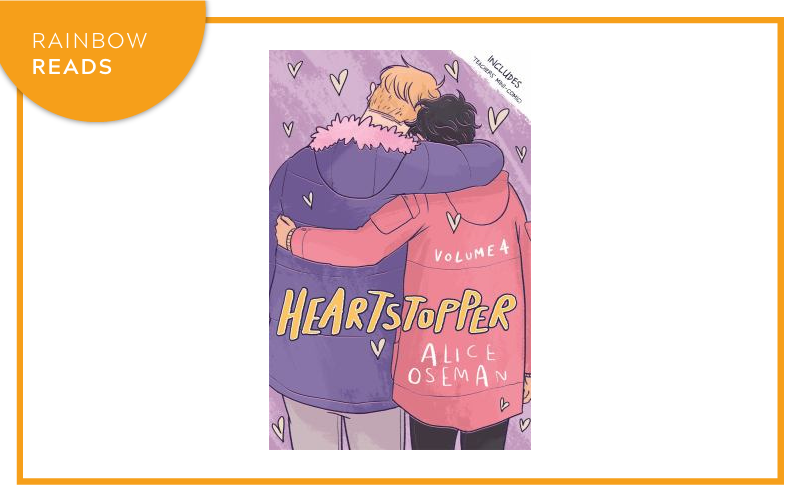 Heartstopper. Volume 4 by Alice Oseman
Boy meets boy. Boys become friends. Boys fall in love. An LGBTQ+ graphic novel about life, love, and everything that happens in between.
See if Heartstopper. Volume 4 is available on our catalogue or place a hold
Heavy Vinyl. Y2K-O! by Carly Usdin
It's 1999, and Chris is living her dream: working at Vinyl Destination by day and fighting for (musical) justice by night in the world's coolest teen girl vigilante fight club, and playing in a band during her free time. When the girls enter a Battle of The Bands, they learn that the shadowy corporate masters of the music industry plan to destroy the fledgling world of digital music and blame it on Y2K.
See if Heavy Vinyl. Y2K-O! is available on our catalogue or place a hold
Poison Ivy. Thorns by Kody Keplinger
Even though Pamela Isley spends most of her time caring for a few small plants and does not trust other people, when cute goth girl Alice Oh comes into her life she starts to open up, but the dark secrets from home could destroy the one person who ever cared about Pamela, or as her mum called her, Ivy.
See if Poison Ivy. Thorns is available on our catalogue or place a hold
Welcome to St. Hell: my trans teen misadventure by Lewis Hancox
A groundbreaking memoir about being a trans teen. Lewis has a few things to say to his younger teen self. He knows she hates her body. He knows she's confused about who to snog. He knows she's really a he and will ultimately realise this... But she's going to go through a whole lot of mess (some of it funny, some of it not funny at all) to get to that point. Lewis is trying to tell her this ... but she's refusing to listen. In Welcome to St Hell, author-illustrator Lewis Hancox takes readers on the hilarious, heartbreaking and healing path he took to make it past trauma, confusion, hurt and dubious fashion choices in order to become the man he was meant to be. Lewis Hancox is a trans influencer, filmmaker and illustrator.
See if Welcome to St. Hell is available on our catalogue or place a hold
Red, White and Royal Blue by Casey McQuiston
When his mother became President, Alex Claremont-Diaz was promptly cast as the American equivalent of a young royal. Handsome, charismatic, genius--his image is pure millennial-marketing gold for the White House. There's only one problem: Alex has a beef with an actual prince, Henry, across the pond. And when the tabloids get hold of a photo involving an Alex-Henry altercation, U.S./British relations take a turn for the worse. Heads of family, state, and other handlers devise a plan for damage control: staging a truce between the two rivals. What at first begins as a fake, Instagramable friendship grows deeper, and more dangerous, than either Alex or Henry could have imagined. Soon Alex finds himself hurtling into a secret romance with a surprisingly unstuffy Henry that could derail the campaign and upend two nations and begs the question: Can love save the world after all? Where do we find the courage, and the power, to be the people we are meant to be? And how can we learn to let our true colours shine through?
See if Red, White and Royal Blue is available on our catalogue or place a hold
We Who Hunt the Hollow by Kate Murray
A firecracker urban fantasy about the youngest daughter of a family of women warriors, and the power she wishes she had …
Seventeen-year-old Priscilla Daalman's entire family are Hollow Warriors – legendary monster hunters charged with killing evil beasts from beyond our universe. She's desperate to live up to that legacy, but she's convinced neither she, nor her superpower – the ability to sense Hollow energy – is up to the task.
But when Priscilla attempts a desperate ritual to enhance her abilities, she accidentally triggers a frightening new power: the power to summon monsters from the Hollow itself. Now, Priscilla must protect her loved ones – her heartbroken ex-girlfriend, her mysterious new boyfriend, even her fierce warrior family – from supernatural monsters, and also from herself. Because if her power gets out, all hell will break loose … and Priscilla will risk losing everything.
See if We Who Hunt the Hollow is available on Borrowbox or place a hold
The Gentleman's Guide to Vice and Virtue by Mackenzi Lee
Henry "Monty" Montague doesn't care that his roguish passions are far from suitable for the gentleman he was born to be. But as Monty embarks on his grand tour of Europe, his quests for pleasure and vice are in danger of coming to an end. Not only does his father expect him to take over the family's estate upon his return, but Monty is also nursing an impossible crush on his best friend and traveling companion, Percy.
So Monty vows to make this yearlong escapade one last hedonistic hurrah and flirt with Percy from Paris to Rome. But when one of Monty's reckless decisions turns their trip abroad into a harrowing manhunt, it calls into question everything he knows, including his relationship with the boy he adores.
Witty, dazzling, and intriguing at every turn, The Gentleman's Guide to Vice and Virtue is an irresistible romp that explores the undeniably fine lines between friendship and love.
See if The Gentleman's Guide to Vice and Virtue is available on Borrowbox or place a hold
The Art of Being Normal by Lisa Williamson
Two outsiders. Two secrets.
David Piper has always been an outsider. His parents think he's gay. The school bully thinks he's a freak. Only his two best friends know the real truth – David wants to be a girl. On the first day at his new school Leo Denton has one goal – to be invisible. Attracting the attention of the most beautiful girl in Year 11 is definitely not part of that plan. When Leo stands up for David in a fight, an unlikely friendship forms. But things are about to get messy. Because at Eden Park School secrets have a funny habit of not staying secret for long...
See if The Art of Being Normal is available on Borrowbox or place a hold