Staff Picks for Teen Reads in 2022
I Must Betray You by Ruta Sepetys
Romania, 1989. Communist regimes are crumbling across Europe. Seventeen-year-old Cristian Florescu dreams of becoming a writer, but Romanians aren't free to dream; they are bound by rules and force. Amidst the tyrannical dictatorship of Nicolae Ceaușescu in a country governed by isolation and fear, Cristian is blackmailed by the secret police to become an informer. He's left with only two choices: betray everyone and everything he loves - or use his position to creatively undermine the most notoriously evil dictator in Eastern Europe. Cristian risks everything to unmask the truth behind the regime, give voice to fellow Romanians, and expose to the world what is happening in his country. He eagerly joins the revolution to fight for change when the time arrives. But what is the cost of freedom?
See if I Must Betray you is available on our catalogue or place a hold
Cemetery Boys by Aiden Thomas
When his traditional Latino family has problems accepting his gender, Yadriel becomes determined to prove himself a real brujo. With the help of his cousin and best friend Maritza, he performs the ritual himself, and then sets out to find the ghost of his murdered cousin and set it free. But the ghost he summons is actually Julian Diaz, the school's resident bad boy, and Julian is determined to find out what happened - and tie up some loose ends before he leaves. Left with no choice, Yadriel agrees to help Julian. But the longer Yadriel spends with Julian, the less he wants to let him leave.
See if Cemetery Boys is available on our catalogue or place a hold
Contagion by Teri Terry
An epidemic is sweeping the country. There is no cure; and you cannot be permitted to infect others. The very few of the infected who survive are dangerous and will be taken into the custody of the army. Young runaway Callie survived the disease, but not the so-called treatment. Her brother Kai is still looking for her. And his new friend Shay may hold the key to uncovering what truly happened.
See if Contagion is available on our catalogue or place a hold
Displaced by Cristina Sanders
Eloise and her family must leave Cornwall on a treacherous sea journey to start a new life in colonial New Zealand. On the ship across, Eloise meets Lars, a Norwegian labourer travelling below decks, and their lives begin to intertwine. When her brother disappears, her father leaves and the family are left to fend for themselves in their new home, Eloise must find the strength to stand up for what she believes in and the people she loves.
See if Displaced is available on our catalogue or place a hold
A Good Girl's Guide to Murder by Holly Jackson
The case is closed. Five years ago, schoolgirl Andie Bell was murdered by Sal Singh. The police know he did it. Everyone in town knows he did it. Almost everyone. Having grown up in the small town that was consumed by the crime, Pippa Fitz-Adeleke chooses the case as the topic for her final project. But when Pip starts uncovering secrets that someone in town desperately wants to stay hidden, what starts out as a project begins to become Pip's dangerous reality.
See if A Good Girl's Guide to Murder is available on our catalogue or place a hold
The Outlaws Scarlett & Browne by Jonathan Stroud
This novel is set in a broken, future England, where gunfights and monsters collide. England has been radically changed by a series of catastrophes. Large cities have disappeared and London has been replaced by a lagoon. The surviving population exists in fortified towns where they cling to traditional ways, while strangely evolved beasts prowl the wilderness beyond. Conformity is rigidly enforced and those who fall foul of the rules are persecuted: some are killed, others are driven out into the wilds. Only a few fight back - and two of these outlaws, Scarlett McCain and Albert Browne, display an audacity and talent that makes them legends. Scarlett McCain is a shoot-first ask-questions-later kind of outlaw. She scrapes by on bank heists, her wits and never looking back. She's on the run from her latest crime when she comes across Albert Browne. He is the sole survivor of a horrific accident, and against her better judgement, Scarlett agrees to guide him to safety. This is a mistake. Soon there are men with dogs and guns and explosives hot on their heels. Scarlett's used to being chased by the law, but this is extreme. It was only a little bank she'd robbed. As they flee together across the wilds, fighting off monstrous beasts, and dodging their pursuers, Scarlett comes to realise that Albert Browne is hiding a terrible secret. And that he may be the most dangerous threat of all.
See if The Outlaws Scarlett & Browne is available on our catalogue or place a hold
Scythe by Neal Shusterman
In a world where disease has been eliminated, the only way to die is to be randomly killed (gleaned) by professional reapers (scythes). Citra and Rowan are teenagers who have been selected to be scythe's apprentices, and despite wanting nothing to do with the vocation they must learn the art of killing and come to understand the necessity of what they do. Only one of them will be chosen as a scythe's apprentice. And when it becomes clear that the winning apprentice's first task will be to glean the loser, Citra and Rowan are pitted against one another in a fight for their lives.
See if Scythe is available on our catalogue or place a hold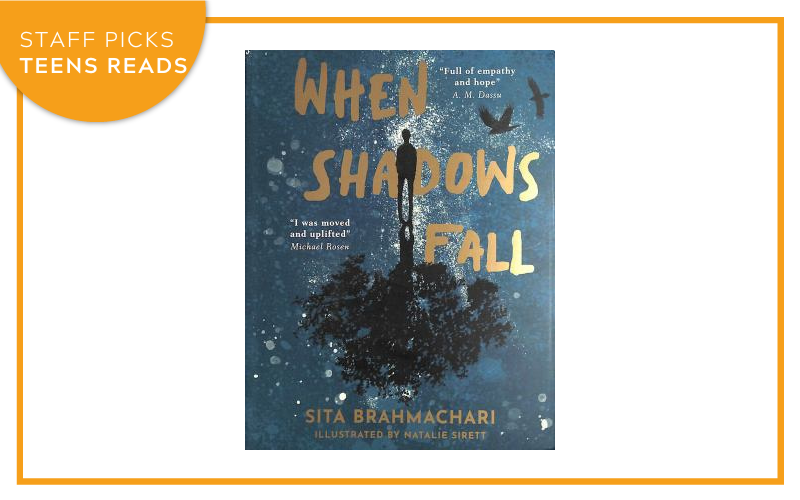 When Shadows Fall by Sita Brahmachari
Kai, Orla and Zak grew up together, their days spent on the patch of wilderness in between their homes, a small green space in a sprawling grey city. Music, laughter and friendship bind them together and they have big plans for their future - until Kai's family suffers a huge loss. Trying to cope with his own grief, as well as watching it tear his family apart, Kai is drawn into a new and more dangerous crowd, until his dreams for the future are a distant memory. Excluded from school and retreating from his loved ones, it seems as though his path is set, his story foretold. Orla, Zak and new classmate Om are determined to help him find his way back. But are they too late?
See if When Shadows Fall is available on our catalogue or place a hold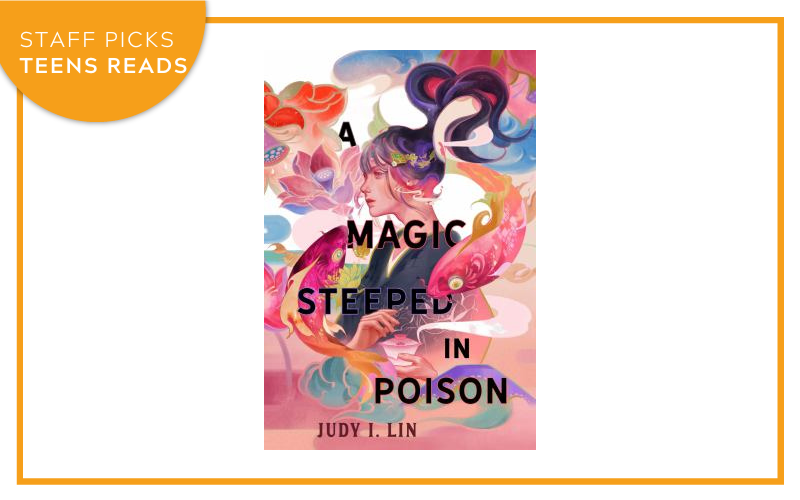 A Magic Steeped in Poison by Judy I. Lin
For Ning, the only thing worse than losing her mother is knowing that it is her own fault. She was the one who unknowingly brewed the poison tea that killed her-- the poison tea that now threatens to also take her sister, Shu. She hears of a competition to find the kingdom's greatest shénnóng-shi - masters of the ancient and magical art of tea-making - where the winner will receive a favour from the princess. It may be Ning's only chance to save Shu's life. That is, if Ning can survive the backstabbing competitors and bloody court politics.
See if A Magic Steeped in Poison is available on our catalogue or place a hold