Children's Things We Like
Get ready to take an exciting dragon adventure with these dragon series.
Take to the Skies by Anh Do
Sky Dragon: Book 1
Children's fiction
Amber knew she'd been given an incredible power, but was it a freak accident, or was there something she was supposed to do with it? Controlling her new ability might be the hardest thing Amber has ever done. Especially when she is running for her life. Who is her mysterious enemy? What connection does he have to Amber's past? And, most importantly, does Amber have what it takes to truly become... Sky dragon?
See if Take to the Skies is available on our catalogue or place a hold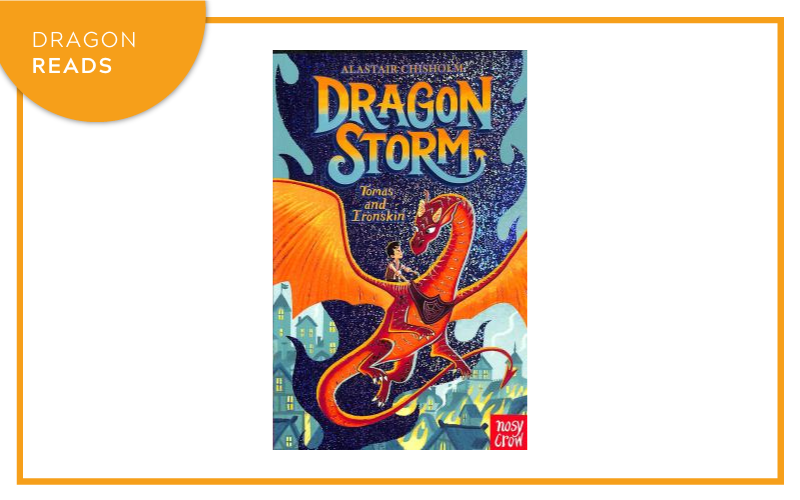 Tomas and the Ironskin by Alastair Chisholm
Dragon Storm: Book 1
Children's fiction
In the land of Draconis, there are no dragons. Once, there were. Once, humans and dragons were friends, and created the great city of Rivven together. But then came the Dragon Storm, and the dragons retreated from the world of humans. To the men and women of Draconis, they became legends and myth. Tomas has always been told that now, dragons are extinct, and so he can't believe it when a mysterious stranger invites him to join a secret society, the Dragonseer Guild - and tells him that not only do dragons still exist, but also that Tomas has a very special power... he can summon his very own dragon! But Tomas faces a difficult choice, and he and his dragon, Ironskin, must learn to trust each other - and together, they have to save their home from a deadly threat.
See if Tomas and the Ironskin is available on our catalogue or place a hold
Dragon Mountain by Katie Tsang
Dragon Realm: Book 1
Children's fiction
When twelve-year-old Billy Chan finds out his parents are sending him to a summer camp in the mountains of China he doesn't know what to expect. There he meets fellow campers Dylan, Charlotte and Ling-Fei and together they stumble upon an age-old secret: four powerful warrior dragons, hidden deep within the mountain behind the camp. They have been trapped since an epic battle with the Dragon of Death and need the children's help to set them free before terrible evil is unleashed on the earth. Billy and his friends must set off on a dangerous adventure that will take them to the heart of the Dragon Realm. But can they save the dragon and human worlds from destruction?
See if Dragon Mountain is available on our catalogue or place a hold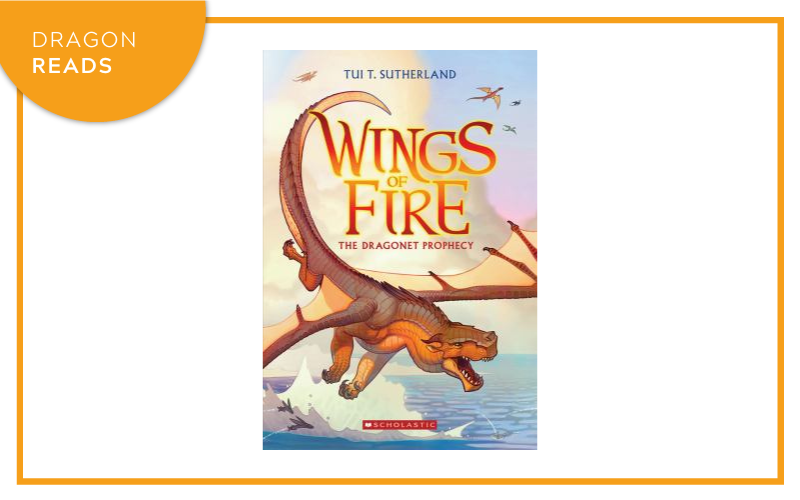 The Dragonet Prophecy by Tui Sutherland
Wings of Fire: Book 1
Children's fiction
Clay has lived his whole life under the mountain. The MudWing dragonet knows war is raging between the dragon tribes in the world outside - a war that he and four other dragonets are destined to end, according to the mysterious prophecy they have been taught. The five "chosen" dragonets were stolen from their homes while they were still in their eggs - and hidden away for years - all to fulfil the prophecy. But not every dragonet wants a destiny. And when danger threatens one of their own, Clay and his friends may choose freedom over fate... leave the mountain... and set the dragon world on a course that no one could have predicted.
See if The Dragonet Prophecy is available on our catalogue or place a hold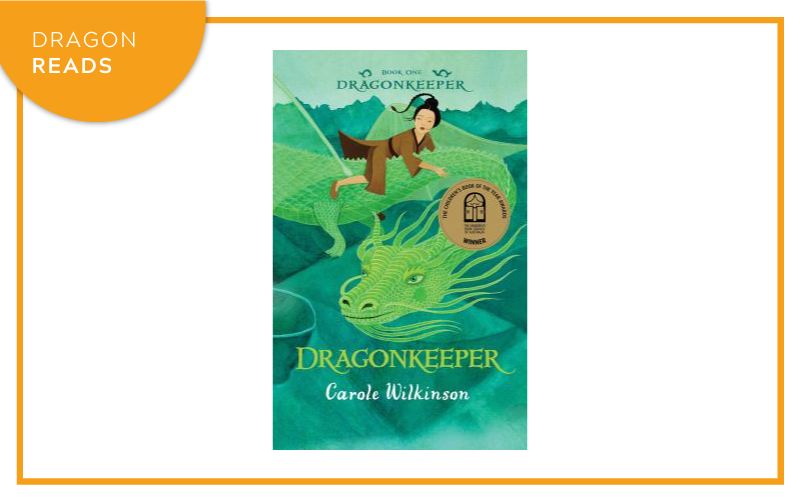 Dragonkeeper by Carole Wilkinson
Dragonkeeper: Book 1
Chapter book
Ancient China, Han Dynasty. A slave girl saves the life of an ageing dragon and escapes her brutal master. Pursued by a ruthless dragon hunter, the dragon and the girl cross China carrying with them a mysterious stone that must be protected.
See if Dragonkeeper is available on our catalogue or place a hold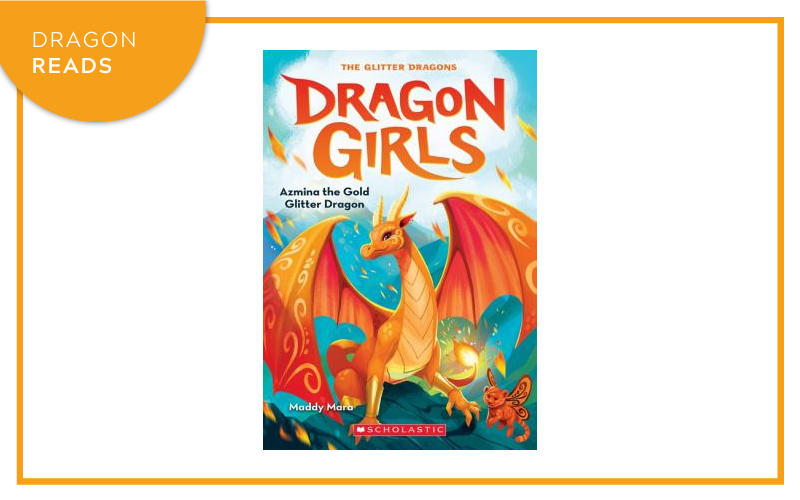 Azmina the Gold Glitter Dragon by Maddy Mara
Dragon Girls: Book 1
Children's fiction
We are Dragon Girls, hear us roar! Azmina, Willa, and Naomi are thrilled to learn they're Glitter Dragon Girls. Summoned to the Magic Forest by its magnificent ruler, the Tree Queen, the girls quickly find out their dragon-selves have unbelievable abilities. They can soar above the treetops, breathe glitter-y bursts of fire, and roar loud enough to shake the ground. With this newfound magic comes a big responsibility, however. As Dragon Girls, they are sworn protectors of the forest and must help keep it safe from the troublesome Shadow Sprites, who are determined to take the forest's magic for their own.
See if Azmina the Gold Glitter Dragon is available on our catalogue or place a hold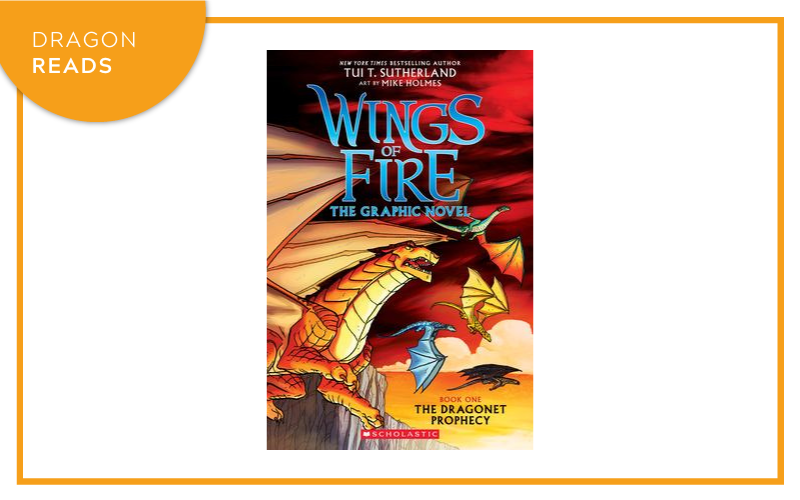 The Dragonet Prophecy by Tui Sutherland
Wings of Fire: Book 1
Graphic novel
Not every dragonet wants a destiny - Clay has grown up under the mountain, chosen along with four other dragonets to fulfil a mysterious prophecy and end the war between the dragon tribes of Pyrrhia. He's not so sure about the prophecy part, but Clay can't imagine not living with the other dragonets; they're his best friends. So when one of the dragonets is threatened, all five spring into action. Together, they will choose freedom over fate, leave the mountain, and fulfil their destiny - on their own terms. In graphic novel format.
See if The Dragonet Prophecy is available on our catalogue or place a hold
The Coldfire Curse by Jordan Quinn
Dragon Kingdom of Wrenly: Book 1
Graphic novel
As the pampered pet dragon of the Prince of Wrenly, Ruskin has never known life beyond the walls of the palace. Until the day a young dragon from Crestwood comes to the palace to plead for help. An evil curse has been unleashed in Crestwood and threatens to destroy all of Wrenly. Ruskin has a choice to make: stay safe at home in the palace, or try to help save his kingdom. For Ruskin, there is no choice. He knows he has to try and help if he can. What Ruskin and his new dragon friends don't yet realises is that the curse was awoken for one reason only - to put Ruskin in harm's way. The mission to reverse the curse is far more dangerous than anyone realises...in fact, it's seemingly impossible. Why is Ruskin the target of these shadowy forces? And how far is Ruskin willing to go to save his kingdom?
See if The Coldfire Curse is available on our catalogue or place a hold
Through the Moon by Peter Wartman
The Dragon Prince: Book 1
Graphic novel
The Dragon Prince has been reunited with his mother, the Human Kingdoms, and Xadia are at peace, and humans and elves are ready to move on. Only Rayla is still restless. Unable to believe Lord Viren is truly dead, and haunted by questions about the fate of her parents and Runaan, she remains trapped between hope and fear. When an ancient ritual calls her, Callum, and Exran to the Moon Nexus, she learns the lake is a portal to a world between life and death. Rayla seizes the opportunity for closure - and the chance to confirm that Lord Viren is gone for good. But the portal is unstable, and the ancient Moonshadow elves who destroyed it never intended for the portal to be reopened. Will Rayla's quest to uncover the secrets of the dead put her living friends in mortal danger?
See if Through the Moon is available on our catalogue or place a hold