Children's Things We Like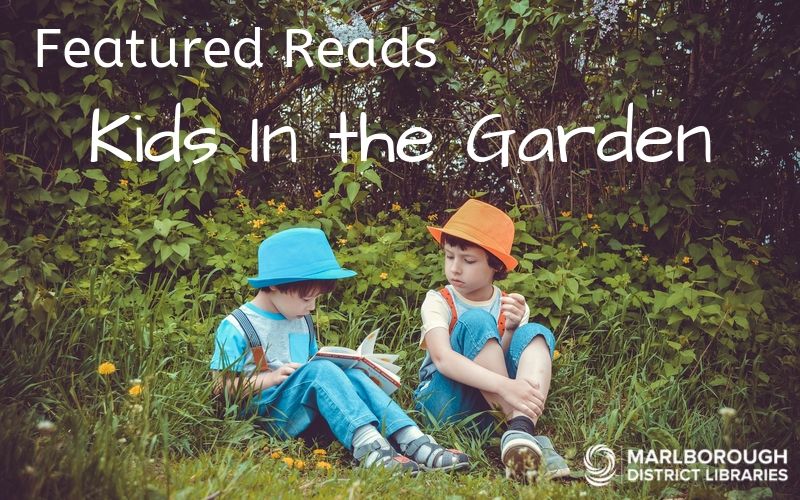 Kids in the Garden
There's a bloom in the boom!
In November we celebrate gardening in Marlborough.
Rapaura Springs Garden Marlborough is celebrated over the weekend 7-10 November.
There are lots of ways children can explore and help out in the garden. Create a simple herb, vegetable or perhaps strawberry patch where children can eat healthy vegetables they have grown themselves. Create a wildflower bee garden or butterfly friendly garden.
Your library has loads of great books to inspire our smallest green fingers to get growing.
See our children's gardening collection

or choose from our selection below. Happy Gardening!
Sunflower Shoots and Muddy Boots : a child's guide to gardening by Katherine Halligan 635 HAL
Packed with brilliant indoor and outdoor gardening activities, this is the perfect introduction to growing plants for little children and grown-ups to enjoy together.
See Sunflower Shoots and Muddy Boots on our catalogue or place a hold
Love bees : a family guide to help keep bees buzzing by Vanessa Amaral-Rogers 595.799 AMA
Bees need our love and attention! Bee colonies are fast declining and our buzzing buddies need our help urgently if they are to recover and thrive. In Love Bees: A Family Guide to Keep Bees Buzzing, Vanessa Amaral-Rogers focuses on how we can help our nectar-collecting buddies flourish—and why these important insects are so awesome—through a whole swarm of engaging facts and fun activities. Teach your kids that conservation is cool–and what the awesome rules are to become a bee's BFF.
The Little Gardener by Emily Hughes - Picture Book
A little gardener who is not very good at gardening makes a wish for a little help.
Thank You Bees by Toni Yuly - Picture Book

This gentle message of gratitude and connection, enhanced by beautifully simple collage illustrations, makes for a charming gift. Sun gives us light. Thank you, sun. Clouds bring the rain that makes puddles to splash in. Sheep give us wool for our sweaters and hats. The honey that sweetens our bread comes from bees (thank you, bees).
New Zealand's Backyard Beasts by Ned Barraud 595.7 BAR
In the garden, creeping along branches, hiding under stones or flitting from flower to flower, a whole universe of creatures is waiting to be discovered. Butterflies, moths, beetles, wasps, spiders... what have you found in your backyard? Did you know that chorus cicadas live underground for most of their life? That bumblebees have smelly feet? That some species of stick insect are all female? Or that earwigs don't actually crawl into ears? In New Zealand's Backyard Beasts, children (and adults) can learn to identify some of the creatures most commonly found in the backyard.
Outdoor science lab for kids : 52 family-friendly experiments for the yard, garden, playground, and park
Outdoor Science Lab for Kids" offers 52 fun science activities for families to do together.
See Outdoor Science Lab for Kids on our catalogue or place a hold