Children's Things We Like
The winners of the New Zealand Book Awards for Children and Young Adults for the 2023 awards have been announced.
We're currently featuring the winning titles here.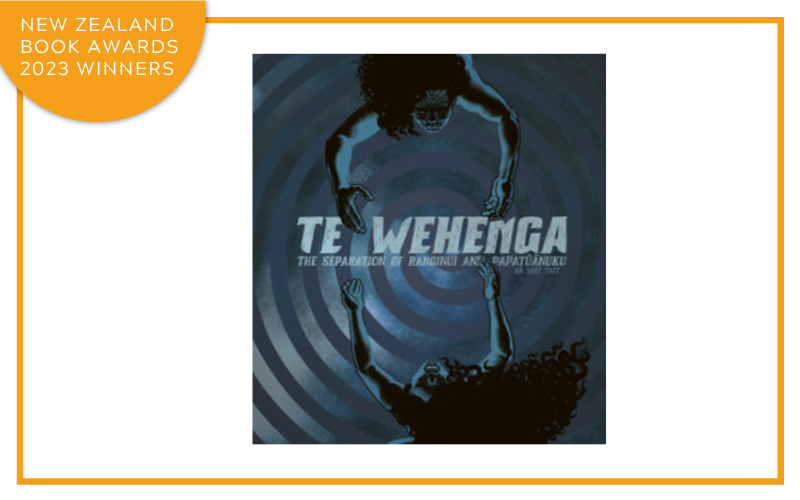 Te Wehenga: The Separation of Ranginui and Papatῡānuku by Mat Tait
Voted the Margaret Mahy book of the year and winner of the Elsie Locke award for non-ficyion, Te Wehenga: The Separation of Ranginui and Papatūānuku presents the Māori creation pūrākau in a bold design using universal elements recognised across iwi. The bilingual text is poetic, and integrated into the artwork on each page in a way that draws readers into an interactive experience, inviting them to turn the book as they become immersed in the darkness of the space between Papatūānuku and Ranginui. The production values are exceptionally high, and the result is a book that is – like the story – a taonga, to be shared, closely read and enjoyed in both te reo Māori and te reo Pākehā.
See if Te Wehenga: The Separation or Ranginui and Papatūānuku is available on our catalogue or place a hold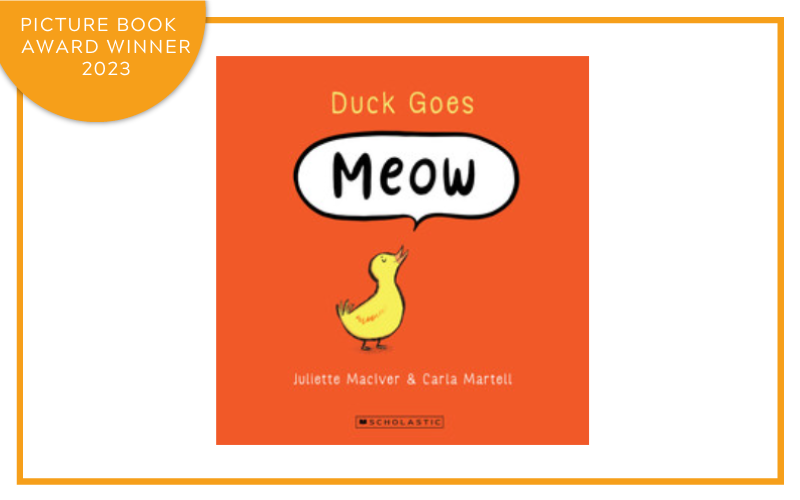 Duck goes Meow by Juliette Macliver
Bold, munificent colours saturate the page, with animals rotund and lively, their hand lettered animal sounds seamlessly blending into a flawless rhyming text. Readers are taken on a hilarious jaunt as these animals negotiate and encourage Duck to say the right thing, anticipation and humour building with each page turn. The little duck plucks at the heartstrings by being true to itself, and challenging our assumptions.
See if Duck goes Meow, is available on our catalogue or place a hold
Below by David Hill
From the squeeze of the hourglass on the cover, to the story's heart-thumping climax, a gripping sense of claustrophobia pervades this novel. The restricted point of view, oppressive setting and accelerating sense of danger conspire to close the reader in, yet the writing feels expansive.
Relationships, reactions and conflicting environmental positions are skilfully drawn, as two pre-teens rely on ingenuity and analytical thinking to help them survive in the collapsing heart of a mountain. As the stakes get higher and the chances of survival lower, the reader is left gasping.
See if Below, is available on our catalogue or place a hold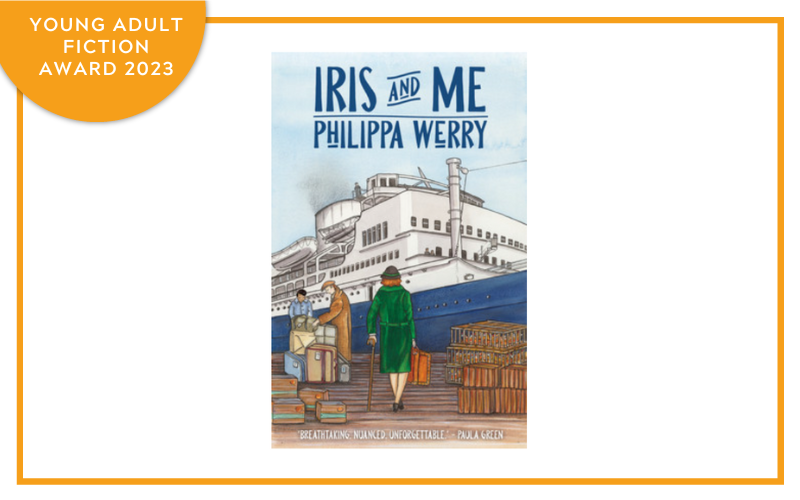 Iris and Me by Philippa Werry
Iris and Me is audacious and daring, much like its subject Iris Wilkinson, who wrote poetry, fiction and journalism using the pen name Robin Hyde. This exploration of Iris' life is astonishingly original. Written in verse with a unique narrative voice, this is heartbreaking yet hopeful historical fiction. The book is impeccably researched and exquisitely written, and its quality is clear from its charming cover through to its extensive end notes. The many hardships that Iris suffers – including mental health issues, disability, and poverty – are sensitively handled and give insight into the life of an important New Zealand author while being relevant to rangatahi today.
See if Iris and Me is available on our catalogue or place a hold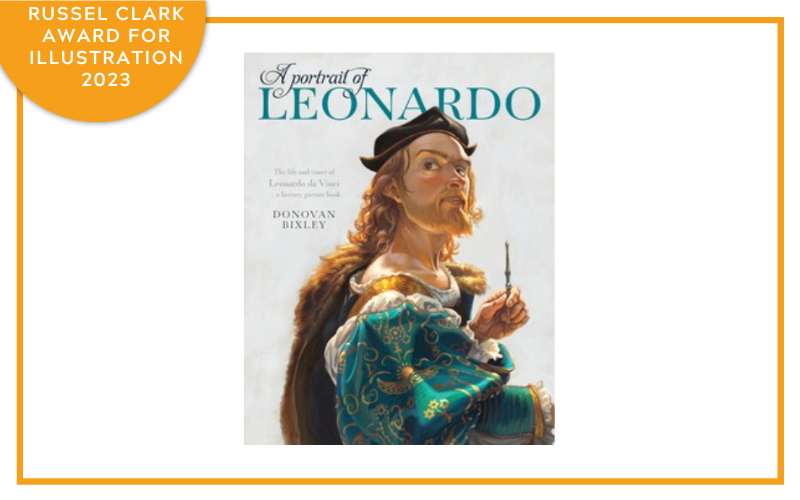 A Portrait of Leonardo
Donovan Bixley excels in this illustrated biography of Leonardo Da Vinci. Relishing the challenge, he plays joyously with puns and puzzles while demonstrating masterful use of tools that were developed by the great artist himself. Composition, perspective, light and colour are used to great effect, with a strong underpinning of drawing and digital skills, creating a vibrant historical read that is also a fluent and delightful feast for the eyes. A Portrait of Leonardo is enticing and accessible to young readers, a great example of words attributed to the master: "Simplicity is the ultimate sophistication".
See if A Portrait of Leonardo, is available on our catalogue or place a hold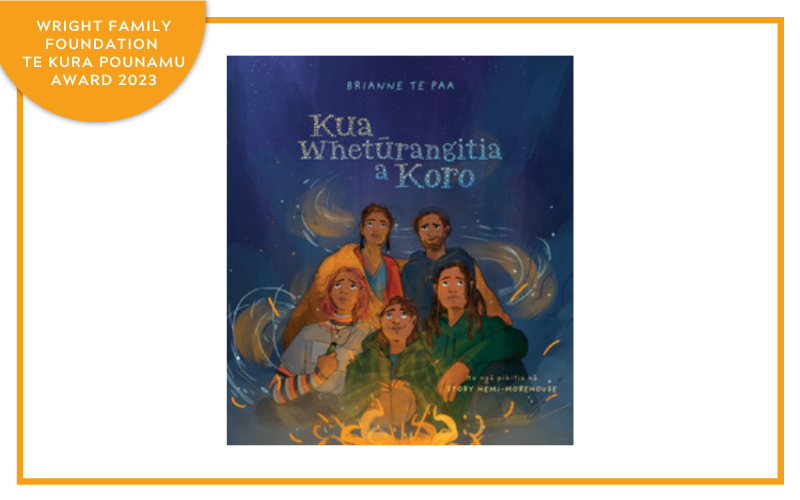 Kua Whetῡrangitia a Koro by Brianne te Paa
Kua Whetūrangitia a Koro is a traditional Māori narrative tailored to fit a new world and a new audience. The significance of this story, its context, and its poetic use of te reo Māori place it in a stratosphere of its own. Much like Matariki, Kua Whetūrangitia a Koro represents authentic Māori stories being told in te reo Māori that will inspire and educate Māori, Pākehā, and all people of New Zealand and the world. Haramai tētahi āhua
See if Kua Wheturangitia, is available on our catalogue or place a hold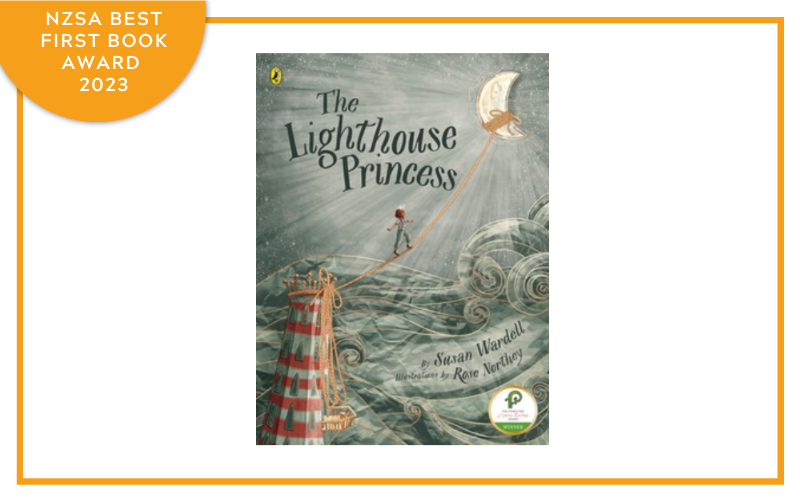 The Lighthouse Princess by Susan Wardell
The Lighthouse Princess stands out as a picture book that combines poetic writing and whimsical illustration to create a sum that is greater than its parts. This clever alchemy is all the more astounding considering it is both the writer's and the illustrator's first foray into publication. With details that draw a child's eye into the world of the Lighthouse, and language that lures us from page to page, Rose Northey and Susan Wardell take the reader to an escapist hideaway on a rocky coast inhabited by creatures both real and imagined. Like the boy in the story, once invited in, many will choose not to leave.
See if The Lighthouse Princess, is available on our catalogue or place a hold