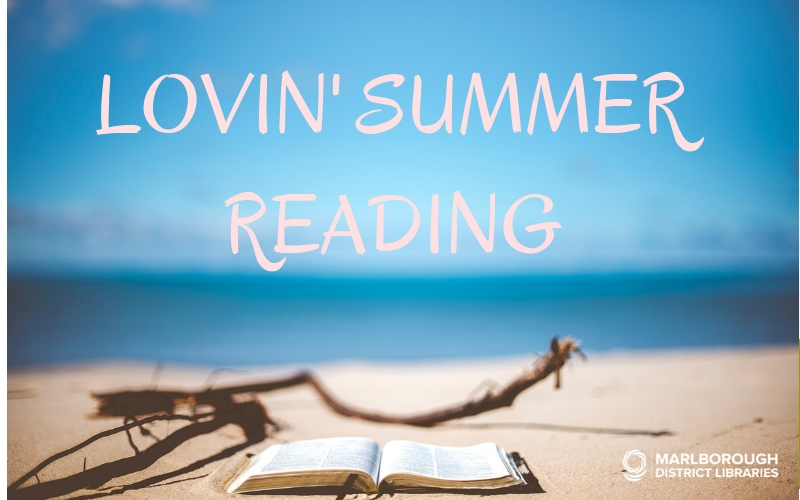 Stay cool with more hot reads to take to the beach or the bach...

The Library Book by Susan Orlean

Weaving her love of books and reading into an investigation of the fire, award-winning New Yorker reporter and bestselling author Susan Orlean introduces us to an unforgettable cast of characters from libraries past and present--from Mary Foy; who in 1880 at eighteen years old was named the head of the Los Angeles Public Library at a time when men still dominated the role, to Dr. C.J.K. Jones, a pastor, citrus farmer, and polymath known as "The Human Encyclopedia" who roamed the library dispensing information; from Charles Lummis, a wildly eccentric journalist and adventurer who was determined to make the L.A. library one of the best in the world.
See if The Library Book is available on our catalogue or place a hold
Killers of the Flower Moon by David Grann
Presents a true account of the early twentieth-century murders of dozens of wealthy Osage and law-enforcement officials, citing the contributions and missteps of a fledgling FBI that eventually uncovered one of the most chilling conspiracies in American history.
See if Killers of the Flower Moon is available on our catalogue or place a hold
The Ultimate Eatlist by Andrew Bain

"The world's top 500 food experiences - ranked! Entries include: Laksa, Malaysia, Grilled octopus, Greece, Smorrebrod, Denmark, Ceviche, Peru, Po boy, USA, Steak tartare, France, Bibimbap, Korea, Dim Sum, Hong Kong, Reindeer Stew, Finland, Jerked chicken, Jamaica, Asado, Argentina, Shakshuka, Israel, Pho, Vietnam, Wildfoods Festival, New Zealand, The Fat Duck restaurant, UK, Tokyo sushi counters, Japan, Bistecca alla Fiorentina, Italy, Adelaide Central Market, Australia, Grilled fish, Seychelles, Irish stew, New York, Reuben delis, USA"
See if The Ultimate Eatlist is available on our catalogue or place a hold
The New Zealand Horse by Deborah Coddington
Writer Deborah Coddington and photographer Jane Ussher capture the strength, beauty and mystery of the horse across New Zealand, from bareback beach riders in the far north to huntsmen in Hawke's Bay, and from the Otago high country and the stud farms of the Waikato to the wild horses of the Kaimanawas, film horses, dressage horses and many, many more.
See if The New Zealand Horse is available on our catalogue or place a hold
Or watch a new feature or series on dvd...
The Bridge (4th Series)
Eleven-year-old Perry was born and raised by his mom at the Blue River Co-ed Correctional Facility in tiny Surprise, Nebraska. His mom is a resident on Cell Block C, and so far Warden Daugherty has made it possible for them to be together. That is, until a new district attorney discovers the truth--and Perry is removed from the facility and forced into a foster home. When Perry moves to the "outside" world, he feels trapped. Desperate to be reunited with his mom, Perry goes on a quest for answers about her past crime. As he gets closer to the truth, he will discover that love makes people resilient no matter where they come from, but can he find a way to tell everyone what home truly means?
See if The Bridge is available on our catalogue or place a hold
Waru
Eight female Māori directors have each contributed a ten minute vignette, presented as a continuous shot in real time, that unfolds around the tangi (funeral) of a small boy (Waru) who died at the hands of his caregiver. They are subtly interlinked and each follow one of the eight female Māori lead characters during the same moment in time as they come to terms with Waru's death and try to find a way forward in their community.
See if Waru is available on our catalogue or place a hold
Westside
Westside (now in its 4th Season) was created by Rachel Lang and James Griffin and is a prequel to Outrageous Fortune.
See if Westside is available on our catalogue or place a hold



The Party

Janet hosts an intimate gathering of friends in her London home to celebrate her political ascension. After her best friend and others arrive the sophisticated soiree starts to unravel, a night that began with champagne soon ends up with a few surprises.
See if The Party is available on our catalogue or place a hold