Marlborough District Library (Blenheim) Book Club

The Marlborough District Library (Blenheim) Book Club theme for March is circus.
The next Marlborough District Library (Blenheim) Book Club meeting is Thursday 30 March at 6.30 pm.
Below are some of the books discussed at our last meeting by New Zealand authors.
Picton Library Book Club
The Picton Library Book Club theme for February is quirky.
The next Picton Library Book Club meeting is Thursday 6 April at 6.30 pm.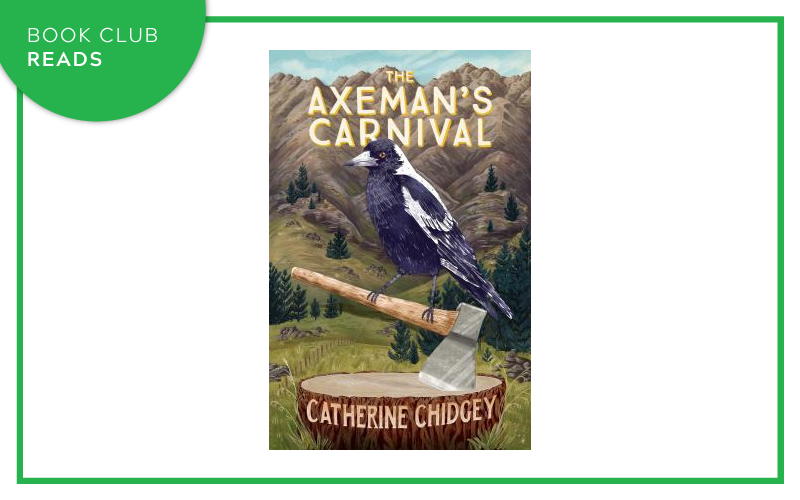 The Axeman's Carnival by Catherine Chidgey
Adult fiction
Tama is just a helpless chick when he is rescued by Marnie, and this is where his story might have ended. 'If it keeps me awake,' says Marnie's husband Rob, a farmer, 'I'll have to wring its neck.' But with Tama come new possibilities for the couple's future. Tama can speak, and his fame is growing. Outside, in the pines, his father warns him of the wickedness wrought by humans. Indoors, Marnie confides in him about her violent marriage. The more Tama sees, the more the animal and the human worlds - and all of the precarity, darkness and hope within them - bleed into one another. Like a stock truck filled with live cargo, the story moves inexorably towards its dramatic conclusion: the annual Axeman's Carnival. Part trickster, part surrogate child, part witness, Tama the magpie is the star of this story. Though what he says aloud to humans is often nonsensical (and hilarious with it), the tale he tells us weaves a disturbingly human sense. The Axeman's Carnival is Catherine Chidgey at her finest - comic, profound, poetic and true.
See if The Axeman's Carnival is available on our catalogue or place a hold
Return to Harikoa Bay by Owen Marshall
Adult fiction
Whenever I think of coming to punish my father, it's always in a strong wind, and that's blowing now as I drive up the long, unsealed track to the house and sheds.' So begins one of Owen Marshall's superbly subversive stories. He offers up a wide range of subjects, from untimely deaths to unusual discoveries made about friends or neighbours, from burnishing an overseas trip to a tale about saving a business venture ... With over ten years since his last collection of new stories, Marshall explores his fellow New Zealanders, bringing his wisdom and wry eye to vivid, insightful scenes.
See if Return to Harikoa Bay is available on our catalogue or place a hold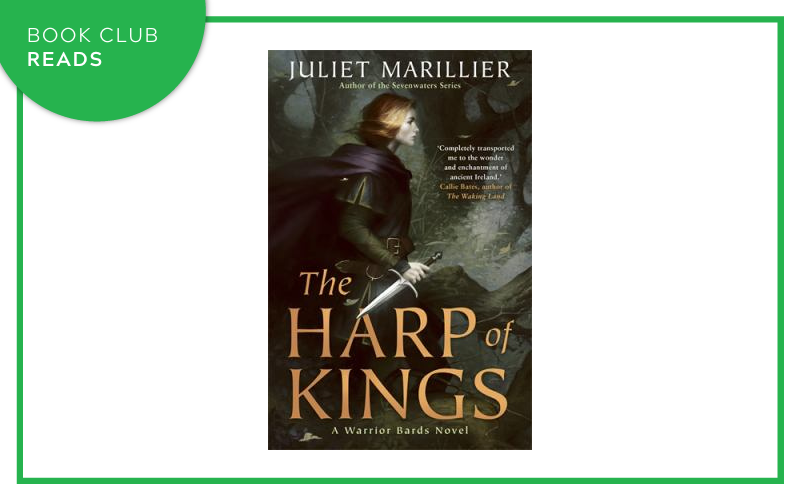 The Harp of Kings by Juliet Marillier
Adult fiction
Bard. Warrior. Rebel. Eighteen-year-old Liobhan is a powerful singer and an expert whistle player. Her brother has a voice to melt the hardest heart and is a rare talent on the harp. But Liobhan's burning ambition is to join the elite warrior band on Swan Island. While she and her brother are competing for places in this band, they are asked to go undercover as travelling minstrels. For Swan Island trains both warriors and spies. Their mission is to find and retrieve a precious harp, an ancient symbol of kingship. If the harp is not played at the upcoming coronation, the heir will not be accepted and the kingdom will be thrown into turmoil. Faced with plotting courtiers, secretive druids, an insightful storyteller and a boorish Crown Prince, Liobhan soon realises an Otherworld power may be meddling in the affairs of the realm. When ambition clashes with conscience, Liobhan must make a bold decision - and the consequences may break her heart.
See if The Harp of Kings is available on our catalogue or place a hold
The Lost Ones: the Romanov legacy by Penelope Haines
Adult fiction
She is an orphan, independent, unattached and free of any personal ties. So why is Purdie Davis, an unexceptional nurse from New Zealand, receiving unsolicited gifts? Nothing ordinary but unusual, valuable antiques that must have a story behind them. Purdie doesn't know their source, and has no idea of their significance. Is she wrong to find this attention menacing? A romantic saga spanning three generations, The Lost One begins as Kyril Komarov flees Moscow, escaping the Russian Revolution. The story crosses the globe as Purdie learns about her family and of the treasure entrusted to their protection at the dawn of the twentieth century, a treasure that now could put Purdie's own life in danger. Balanced between the past and the present, with history, intrigue and fabulous Russian treasure, The Lost One unfolds one family's legacy.
See if The Lost Ones is available on our catalogue or place a hold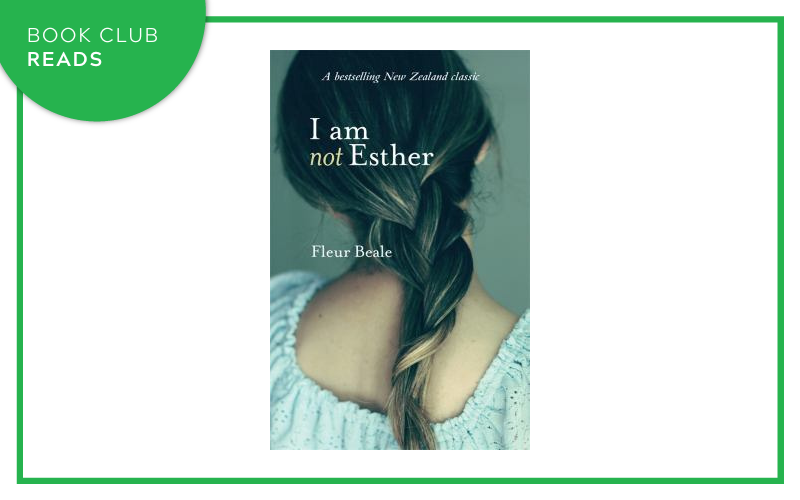 I Am Not Esther by Fleur Beale
Teen fiction
When Kirby's mother tells her she is going away for two years, and is leaving her with relatives she's never heard of, it is every teenage girl's nightmare. These relatives are members of a closed religious sect. They have no television, radio, newspapers or mirrors and Kirby must wear long, modest clothes and behave in a 'Godly' way, or else. They even give her a new biblical name, Esther.
See if I Am Not Esther is available on our catalogue or place a hold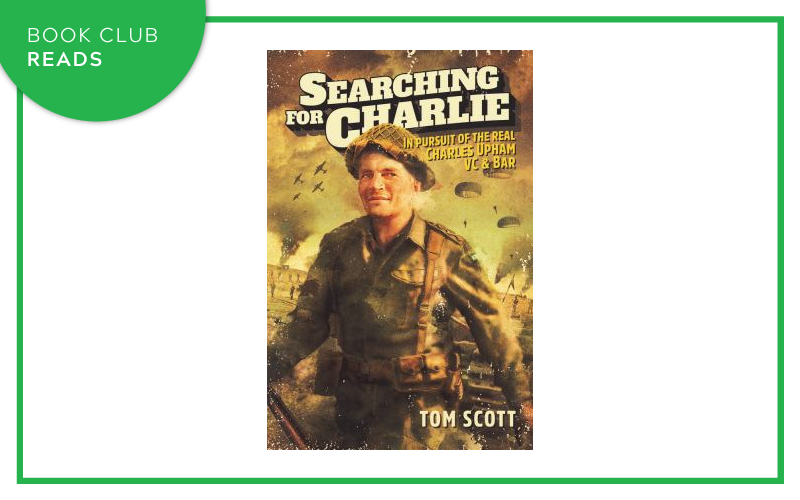 Searching for Charlie: in pursuit of the real Charles Upham VC & BAR by Tom Scott
Adult non-fiction 92 UPH
Charles Upham was the most highly decorated soldier in the Commonwealth forces of WWII, and could arguably be called the bravest soldier of the war. An unassuming stock worker/ valuer at the beginning of the war, he stormed through Crete and the Western Desert, amazing and confounding his comrades with his exploits. He won two Victoria Crosses (the only combat soldier ever to do so) and in the opinion of his superiors deserved many more. Captured, he became an escape artist and ended his war in the famous Colditz POW camp. Shy and reluctant to take credit for his actions, he deflected all praise onto his soldiers and was described as distraught that he had been honoured. He then farmed in North Canterbury until his death in 1994, avoiding the limelight wherever possible.
See if Searching for Charlie is available on our catalogue or place a hold