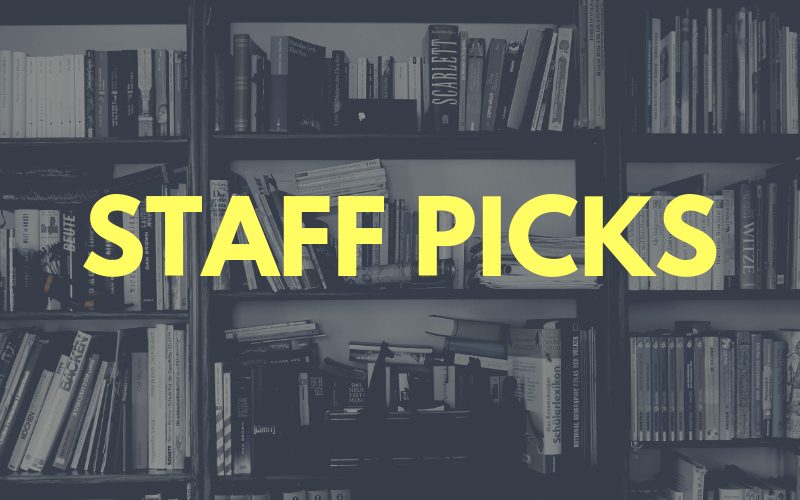 Looking for something new to read? Our staff are avid readers and provide recommendations each month.
Over the last month we have read a variety of titles including non-fiction, fiction and teen fiction.
Below are a selection of our favourite reads from last month.
The Fall of the House of Byron: scandal and seduction in Georgian England by Emily Brand
Adult non-fiction 941.07BRA
Picked by Briana
In the early eighteenth century, Newstead Abbey was among the most admired aristocratic homes in England. It was the abode of William, 4th Baron Byron - a popular amateur composer and artist - and his teenage wife Frances. But by the end of the century, the building had become a crumbling and ill-cared-for ruin. Surrounded by wreckage of his inheritance, the 4th Baron's dissipated son and heir William, 5th Baron Byron - known to history as the 'Wicked Lord' - lay on his deathbed alongside a handful of remaining servants and amidst a thriving population of crickets. This was the home that a small, pudgy boy of ten from Aberdeen - who the world would later come to know as Lord Byron, the Romantic poet, soldier, and adventurer - would inherit in 1798. His family, he would come to learn, had in recent decades become known for almost unfathomable levels of scandal and impropriety, from elopement, murder, and kidnapping to adultery, coercion, and thrilling near-death experiences at sea. Just as it had shocked the society of Georgian London, the outlandish and scandalous story of the Byrons - and the myths that began to rise around it - would influence his life and poetry for posterity. The Fall of the House of Byron follows the fates of Lord Byron's ancestors over three generations in a drama that begins in rural Nottinghamshire and plays out in the gentlemen's clubs of Georgian London, amid tempests on far-flung seas, and in the glamour of pre-revolutionary France. A compelling story of a prominent and controversial characters, it is a sumptuous family portrait and an electrifying work of social history.
See if The fall of the House of Byron is available on our catalogue or place a hold
A Gentleman in Moscow by Amor Towles

Adult fiction
Picked by Pam
Pam said, this is what an English teacher would call 'language rich'.
The story of Count Alexander Rostov. When, in 1922, he is deemed an unrepentant aristocrat by a Bolshevik tribunal, the count is sentenced to house arrest in the Metropol, a grand hotel across the street from the Kremlin. Rostov, an indomitable man of erudition and wit, has never worked a day in his life, and must now live in an attic room while some of the most tumultuous decades in Russian history are unfolding outside the hotel's doors. Unexpectedly, his reduced circumstances provide him a doorway into a much larger world of emotional discovery. Brimming with humor, a glittering cast of characters, and one beautifully rendered scene after another, this singular novel casts a spell as it relates the count's endeavor to gain a deeper understanding of what it means to be a man of purpose.
See if A Gentleman in Moscow is available on our catalogue or place a hold
The Girl with the Louding Voice by Abi Dare
Adult fiction
Picked by Maggie
Adunni is a fourteen-year-old Nigerian girl who knows what she wants: an education. This, her mother has told her, is the only way to get a 'louding voice' - the ability to speak for herself and decide her own future. But instead, Adunni's father sells her to be the third wife of a local man who is eager for her to bear him a son and heir. When Adunni runs away to the city, hoping to make a better life, she finds that the only other option before her is servitude to a wealthy family. As a yielding daughter, a subservient wife, and a powerless slave, Adunni is told, by words and deeds, that she is nothing. But while misfortunes might muffle her voice for a time, they cannot mute it. And when she realizes that she must stand up not only for herself, but for other girls, for the ones who came before her and were lost, and for the next girls, who will inevitably follow; she finds the resolve to speak, however she can-in a whisper, in song, in broken English-until she is heard.
See if The girl with the louding voice is available on our catalogue or place a hold
Good Omens by Neil Gaiman and Terry Pratchett
Adult fiction
Picked by Porsche
It wasn't a dark and stormy night even though it should have been, but that's the weather for you. There is the hint of Armageddon in the air. According to the Nice and Accurate Prophecies of Agnes Nutter, Witch (as recorded in 1655), the world will end on a Saturday. Next Saturday, in fact. So the Armies of Good and Evil are massing, the four Bikers of the Apocalypse are revving up their might hogs and hitting the road, and the world's last two remaining witchfinders are getting ready to Fight the Good Fight. Atlantis is rising. Frogs are falling. Tempers are flaring, and everything appears to be going to Divine Plan. All that's required now is the Anti-Christ. There's just one glitch: someone seems to have misplaced him.
See if Good Omens is available on our catalogue or place a hold
Hokitika Town by Charlotte Randall

Adult fiction
Picked by Jenny
Hokitika, 1865, at the height of the Gold Rush. In a town with a hundred pubs, young Halfie aka Harvey, Thumbsucker, Bedwetter, Cocoa and Pipsqueak gets by as best he can. Most of the time he hangs around the Bathsheba pub, washing dishes, running errands and making the odd coin - and observing from close quarters the parade of miners, dancing girls, petty crims and plain drunks that passes through the doors. When you're a coin boy you see a lot of life, and from low down. But how much do you really understand? What's going on in young Halfie's world?
See if Hokitika Town is available on our catalogue or place a hold
Tasting Stars by Karen Mills
Teen fiction
Picked by Tracey
Tracey said 'This certainly wasn't an easy read! It was very confronting and painful to read about the physical, psychological and emotional abuse experienced by our courageous young narrator Rose Dixon. The story takes us on Rose's journey to escape and emerge bravely from her violent father's control, while still protecting her other siblings. There is so much bravery in this book! I love how Rose's journey is supported by the community around her – friendships with her peers are vital, as are her relationships with other adults in her life. It is important that we as members of a community do not turn away from family violence. I would definitely recommend it for older teens and adults.'
At first glance, thirteen-year-old Rose Ann Dixon's family life in 1960s Otara seems unremarkable. Her home, which she shares with her father, mother and five younger siblings, looks no different from those around it. But her close friend and neighbours know otherwise. A gift from her teacher on her thirteenth birthday is a turning point in Rose's life. After hearing Martin Luther King's inspiring words, Rose realises that everyone can have dreams and, what's more, they have a right to expect them to come true. Rose begins a journey from Otara to Wellington and finally to India. Sustained by the love and wisdom of a recently deceased aunt and the kindness of her best friend's family, Rose learns things that give her the strength she needs to save those she loves. Karen Mills writes a gripping story about family violence with profound understanding - and delightful humorous touches.
See if Tasting Stars is available on our catalogue or place a hold