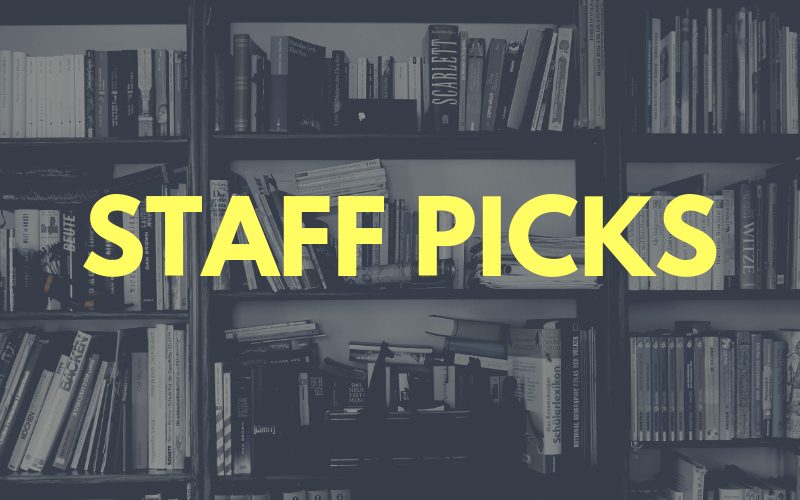 Looking for something new to read? Our staff are avid readers and provide recommendations each month.
Over the last month we have read a variety of titles, this selection has teen and adult as well as adult non-fiction titles.
Below are a selection of our favourite reads from last month, with more to come in the next few weeks.
Dear Martin by Nic Stone

Teen fiction
Picked by Sarah
Justyce McAllister is top of his class at Braselton Prep, captain of the debate team, and set for an Ivy League school next year, but none of that matters to the police officer who just put him in handcuffs. He's eventually released without charges (or an apology), but the incident rattles him. Despite leaving his rough neighbourhood, he can't seem to escape the scorn of his former peers or the attitude of his new classmates. The only exception: Sarah Jane, Justyce's gorgeous (and white) debate partner he wishes he didn't have a thing for. Justyce has studied the teachings of Dr. Martin Luther King Jr. But do they hold up now? He starts a journal to Dr. King to find out. Then Justyce goes driving with his best friend, Manny, windows rolled down, music turned up. Much to the fury of the white off-duty cop beside them. Words fly, shots are fired. And Justyce and Manny are caught in the crosshairs. In the media fallout, it's Justyce who is under attack.
See if Dear Martin is available on our catalogue or place a hold
Hench: a novel by Natalie Zina Walschots
Adult fiction
Picked by Paige
Anna does boring things for terrible people because even criminals need office help and she needs a job. As a temp, she's just a cog in the machine. But when she finally gets a promising assignment, everything goes very wrong, and an encounter with the so-called 'hero' leaves her badly injured. So, of course, then she gets laid off. With no money and no mobility, with only her anger and internet research acumen, she discovers her suffering at the hands of a hero is far from unique. When people start listening to the story that her data tells, she realises she might not be as powerless as she thinks. Because the key to everything is data: knowing how to collate it, how to manipulate it, and how to weaponise it.
See if Hench is available on our catalogue or place a hold
Limitless: the autobiography by Tim Peake
Adult non-fiction 92 PEA
Picked by Michelle W
In fascinating and personal detail, and based on exclusive diaries and audio recordings from his mission, Tim Peake takes readers closer than ever before to experience what life in space is really like: the sacrifice that astronauts make in being apart from their families, the sights, the smells, the fear, the exhilaration and the deep and abiding wonder of the view from space. Limitless is a book about the power of following our dreams - however unlikely they may seem - and of striving to reach our potential, even when we might not believe in it ourselves. Limitless also charts Peake's surprising road to becoming an astronaut, from a shy and unassuming boy from Chichester who had a passion for flight, to a young British Army officer, Apache helicopter pilot, flight instructor and test pilot who served around the world. Peake's extensive eighteen-year career in the army included the command of a platoon of soldiers in Northern Ireland during the Troubles, deployment in Bosnia, and flying multiple high-risk sorties as a test pilot, including operations in Afghanistan. After he was selected by the European Space agency from over 8000 candidates, Peake undertook six years of training to be an astronaut, tested physically, psychologically, emotionally and intellectually - from learning Russian language in St. Petersburg to coping with the darkness and claustrophobia of living for days in caves in Sardinia and under the ocean off the United States.
See if Limitless is available on our catalogue or place a hold
Phosphorescence: on awe, wonder and things that sustain you when the world goes dark by Julia Baird
Adult non-fiction 158 BAI

Picked by Jenny
Over the last decade, we have become better at knowing what brings us contentment, well-being and joy. We know, for example, that there are a few core truths to science of happiness. We know that being kind and altruistic makes us happy, that turning off devices, talking to people, forging relationships, living with meaning and delving into the concerns of others offer our best chance at achieving happiness. But how do we retain happiness? It often slips out of our hands as quickly as we find it. So, when we are exposed to, or learn, good things, how do we continue to burn with them? And more than that, when our world goes dark, when we're overwhelmed by illness or heartbreak, loss or pain, how do we survive, stay alive or even bloom? In the muck and grit of a daily existence full of disappointments and a disturbing lack of control over many of the things that matter most - finite relationships, fragile health, fraying economies, a planet in peril - how do we find, nurture and carry our own inner, living light - a light to ward off the darkness?
See if Phosphorescence is available on our catalogue or place a hold
Piece of my heart by Mary Higgins Clark and Alfair Burke
Adult fiction

Picked by Glenn
Television producer Laurie Moran and her fiancée, Alex Buckley, the former host of her investigative television show, are just days away from their mid-summer wedding, when things take a dark turn. Alex's seven-year-old nephew, Johnny, vanishes from the beach. A search party begins and witnesses recall Johnny playing in the water and collecting shells behind the beach shack, but no one remembers seeing him after the morning. As the sun sets, Johnny's skim board washes up to shore, and everyone realises that he could be anywhere, even under water.
See if Piece of my heart is available on our catalogue or place a hold
Plain bad heroines by Emily M. Danforth
Adult fiction

Picked by Lis
A century after the macabre deaths of several students at a New England girls' boarding school, the release of a sensational book on the school's history inspires a horror film adaptation that renews suspicions of a curse when the cast and crew arrive at the long-abandoned building.
See if Plain bad heroines is available on our catalogue or place a hold
Small island by Andrea Levy
Adult fiction

Picked by Maggie
It is 1948, and England is recovering from a war. But at 21 Nevern Street, London, the conflict has only just begun. Queenie Bligh's neighbours do not approve when she agrees to take in Jamaican lodgers, but Queenie doesn't know when her husband will return, or if he will come back at all. What else can she do? Gilbert Joseph was one of the several thousand Jamaican men who joined the RAF to fight against Hitler. Returning to England as a civilian he finds himself treated very differently. It's desperation that makes him remember a wartime friendship with Queenie and knock at her door. Gilbert's wife Hortense, too, had longed to leave Jamaica and start a better life in England. But when she joins him she is shocked to find London shabby, decrepit, and far from the golden city of her dreams. Even Gilbert is not the man she thought he was.
See if Small island is available on our catalogue or place a hold
The home by Mats Standberg
Adult fiction
Picked by Amanda
Once inseparable, Joel and Nina haven't spoken in twenty years. When Joel's mother Monika develops dementia, he has no choice but to return to his home town. Monika needs specialist care, and that means Pineshade - which also means Joel is going to have to deal with his one-time best friend, for Nina works there. It's not long before Monika's health deteriorates - she starts having violent, terrifying outbursts, and worse, she appears to know things she couldn't possibly know. It's almost as if she isn't herself any more... but of course, that's true of most of the residents at Pineshade. Only Nina and Joel know Monika well enough to see the signs; only by working together can they try to find answers to the inexplicable.
See if The home is available on our catalogue or place a hold