Falling by T J Newman
Adult fiction
Picked by Amanda

There are one hundred and forty-three other passengers onboard. What you don't know is that thirty minutes before the flight your pilot's family was kidnapped. For his family to live, everyone on your plane must die. The only way the family will survive is if the pilot follows his orders and crashes the plane. Enjoy the flight.
See if Falling is available on our catalogue or place a hold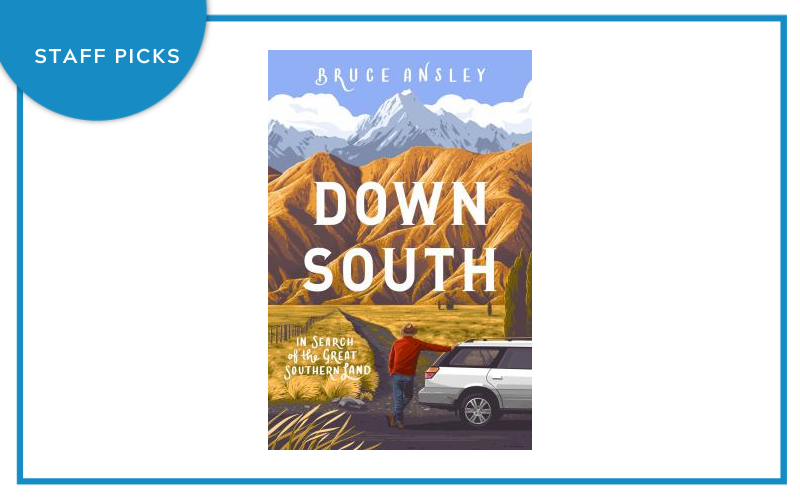 Down South by Bruce Ansley
Adult non-fiction 993.7 ANS
Picked by Jenny
In Down South, writer Bruce Ansley goes on a journey of rediscovery, back to his beloved South Island. From Curio Bay in Southland to Totaranui in Golden Bay, this is both a provocative history and a vast expedition across the land once known as Middle Island, as Ansley visits the places and people who hold the clues to the South's famous character.
See if Down South is available or place a hold on our catalogue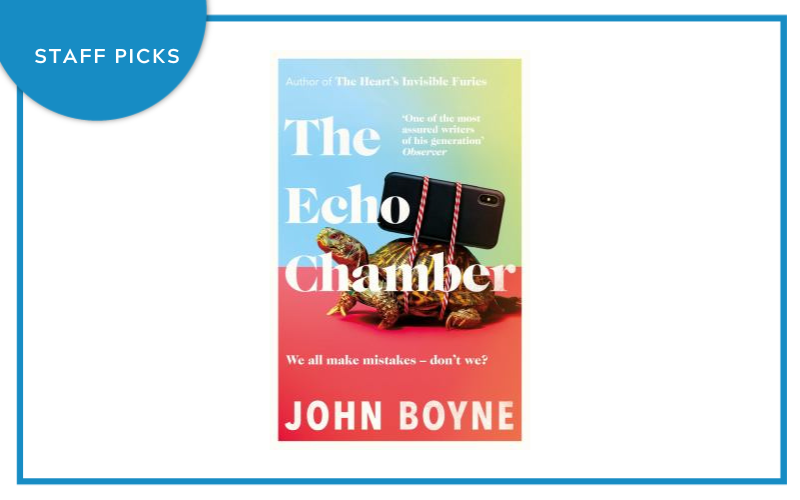 The Echo Chamber by John Boyne
Adult fiction
Picked by Kia
What a thing of wonder a mobile phone is. Six ounces of metal, glass and plastic, fashioned into a sleek, shiny, precious object. At once, a gateway to other worlds - and a treacherous weapon in the hands of the unwary, the unwitting, the inept. The Cleverley family live a gilded life, little realising how precarious their privilege is, just one tweet away from disaster. George, the patriarch, is a stalwart of television interviewing, a 'national treasure' (his words), his wife Beverley, a celebrated novelist (although not as celebrated as she would like), and their children, Nelson, Elizabeth, Achilles, various degrees of catastrophe waiting to happen. Together they will go on a journey of discovery through the Hogarthian jungle of the modern living where past presumptions count for nothing and carefully curated reputations can be destroyed in an instant. Along the way they will learn how volatile, how outraged, how unforgiving the world can be when you step from the prescribed path.
See if The Echo Chamber is available on our catalogue or place a hold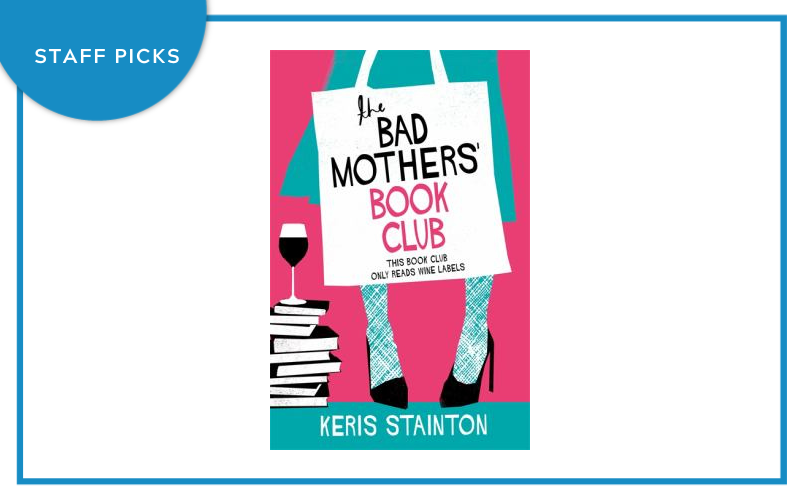 The Bad Mothers' Book Club by Keris Stainton
Adult fiction
Picked by Kirsty

Since moving to the seaside for her husband's job, Emma Chance's life is all about long walks on the beach (with the dog), early nights (with the kids), and Netflix (no chill). She's bored. And lonely. When a school gate mum and almost-friend tells Emma about an exclusive book club - hosted by Head of the PTA (and wife of a footballer, but NOT a Footballer's Wife) Jools Jackson - she thinks it could be the perfect solution, but she doesn't like Jools and Jools doesn't seem to like her either. So she's surprised when Jools invites her along. And it's fine. It's not quite what Emma was looking for - she doesn't have much in common with the other mums and the book club meetings have too much focus on the books and not enough on, say, wine and gossip - but it's better than nothing. After a couple of awkward months, an accident with a glass of red wine on a white carpet, and Jools's daughter learning the word "fucknugget", Jools tells Emma she's no longer welcome in her club. Emma is at first self-righteous, then embarrassed - and curious about why Jools's husband was crying in his car - but eventually settles back into boredom and loneliness again. But Emma's blacklisting by Jools seems to endear her to the other school mums. They all have a Jools story, along with their own tales of shame and humiliation. Long (sometimes whispered) chats at the school gates, become even longer, laughter-filled, conversations in the small library at the bottom of School Lane, until Emma realises she can start her own book club - no cleaners, polite conversation or, realistically, reading required: The Bad Mothers' Book Club is born.
See if The Bad Mothers' Book Club is available on our catalogue or place a hold
The Orphans by Fiona McIntosh
Adult fiction
Picked by Lis

Orphan Fleur Appleby is adopted by a loving undertaker and his wife and she quickly develops a special gift for helping bereaved families. Her ambition to be the first female mortician in the country is fuelled by her plan to bring more women into the male dominated funeral industry. Raised in the outback of South Australia's Flinders Ranges, Tom Catchlove is faced with a life-changing tragedy as a young boy. He works hard but dreams big, striving for a future as a wool classer. A chance encounter between the two children will change the course of their lives. By adulthood Fleur finds herself fighting for the survival of the family's business, while her widowed father drinks away generations of prosperity and a new, conniving stepmother wants Fleur gone. When Tom emerges from the isolation of the desert to find new work at the port woolstores, his path crosses with Fleur's again, only to be caught up in a murder investigation, in which they can only trust each other. At once tragic and triumphant, The Orphans is an unforgettable story about a unique bond between two children that will echo down the years, and teach them both about the real meaning of life, of loss, and of love.
See if The Orphans is available on our catalogue or place a hold
Shield Maiden by Sharon Emmerichs
Adult fiction
Picked by Lizzie

Fryða has grown up hearing tales of her uncle, King Beowulf, and his spectacular defeat of the monstrous Grendel. Her one desire is to become a shield maiden in her own right, but a terrible accident during her childhood has thwarted this dream. Yet still, somehow, she feels an uncontrollable power begin to rise within herself. The last thing Fryða wants is to be forced into a political marriage, especially as her heart belongs to her lifelong friend, Theow. However, as foreign kings and chieftains descend upon her home to celebrate Beowulf's fifty years as the king of Geatland, the partnership begins to seem inevitable. That is, until, amidst the lavish gifts and drunken revelry, a discovery is made that threatens the safety of Fryða's entire clan - and her own life. Incensed by this betrayal, Frða resolves to fight for her people no matter the cost. As a queen should. As a shield maiden would. And as the perilous situation worsens, Fryða's powers seem only to grow stronger. But she is not the only one to feel the effects of her new-found battle-magic. For, buried deep in her gilded lair, a dragon is drawn to Fryða's untamed power, and is slowly awakening from a long, cursed sleep...
See if Shield Maiden is available on our catalogue or place a hold
Take My Hand by Dolen Perkins-Valdez
Adult fiction
Picked by Maggie
Inspired by true events that rocked the nation, a profoundly moving novel about a Black nurse in post-segregation Alabama who blows the whistle on a terrible wrong done to her patients. 1973. Fresh out of nursing school, Civil Townsend has big plans to make a difference, especially in her African American community. At the Montgomery Family Planning Clinic, she intends to help women make their own choices for their lives and bodies. But when her first week on the job takes her down a dusty country road to a worn-down one-room cabin, she's shocked to learn that her new patients, India and Erica, are children - just eleven and thirteen years old. Neither of the Williams sisters has even kissed a boy, but they are poor and Black, and for those handling the family's welfare benefits, that's reason enough to have the girls on birth control. As Civil grapples with her role, she takes India, Erica, and their family into her heart. Until one day she arrives at the door to learn the unthinkable has happened, and nothing will ever be the same for any of them. Decades later, with her daughter grown and a long career in her wake, Dr. Civil Townsend is ready to retire, to find her peace, and to leave the past behind. But there are people and stories that refuse to be forgotten. That must not be forgotten. Because history repeats what we don't remember.
See if Take My Hand is available on our catalogue or place a hold