International Women's Day
You're Doing it Wrong: a history of bad & bonkers advice to women by Kaz Cooke
Adult non-fiction 305.4 COO
An outrageous tour through the centuries of bonkers and bad advice handed down and foisted upon women, told as only Kaz Cooke can - with humour and rage, intelligence and wit. A fresh, funny and furious look at the terrible advice women have been told for centuries. Stroll with bestselling author Kaz Cooke through instructions on how to day-drink, wear a dress made of arsenic, pretend you're an idiot, have sex with a billionaire biker, curtsey, get properly harassed at work, exercise your nose, oppress other women and frighten your uterus. Using hundreds of amazing photos and illustrations, and the experiences of generations of women in her own family, You're Doing It Wrong shows how advice has been a weapon against us - and how by recognising it, we can ignore it. And totally cheer up. Warning- contains unbridled swearing about famous philosophers.
See if You're Doing it Wrong is available on our catalogue or place a hold
Spirit: conversations with creative women by Jannine Wilkinson
Adult non-fiction 709.93 WIL
Features the life stories and creative work of 34 NZ women creatives, including: Philippa Bentley, Tess Costil, Hannah Jensen, Kiri Nathan, Emily Adams, Claudia Pond Eyley, Indigo Rowe, Bernadette Casey, Flox, Louise James, Sofia Minson, Fiona Mackay, Anita May Blanchett, Debra Fallowfield, Fiona Hugues, Tina Hutchison-Thomas, Janette Cervin, Gypsy West, Vanessa Riddell, Julie Paama-Pengelly, Renee Dale, Louise Pilkington, Manja Wachsmuth, Holly Roach, Rebecca Asquith, Kate Hursthouse, Vicky Savage, Neke Moa, Jacqui Victor, Bets Gee, Julie Collis, Liz Smith, Susi Meares, Relda Frogley and Joanne Gray. A close-up view of each artist and their work outlining their life, work, and challenges to pursue a creative life. Combines intimate photography with in-depth storytelling to provide inspiration to others wishing to follow their dreams.
See if Spirit is available on our catalogue or place a hold
Windswept: walking in the footsteps of remarkable women by Annabel Abbs
Adult non-fiction 920.72 ABB
The story of extraordinary women who lost their way - their sense of self, their identity, their freedom - and found it again through walking in the wild. A feminist exploration of the power of walking in nature, following in the footsteps of Gwen John, Georgia O'Keeffe, Frieda Lawrence, Clara Vyvyan, Simone de Beauvoir and Nan Shepherd. Recovering from a life-threatening accident, Annabel Abbs rediscovered a lost love of long, wild hikes. Consequently fascinated by the art, literature and philosophy of walking in nature, she realised it had never before been told from a woman's point of view. In Windswept, she retraces the lives and walks of remarkable women who found solace, redemption and personal and artistic freedom in walking. From the Nan Shepherd's iconic wanderings through the Scottish Highlands, to the isolation of Texas and New Mexico where Georgia O'Keeffe roamed and following Gwen John's path along the Garbonne, Windswept crosses continents and centuries in a beautifully written, feminist meditation on the power of walking in nature.
See if Windswept is available on our catalogue or place a hold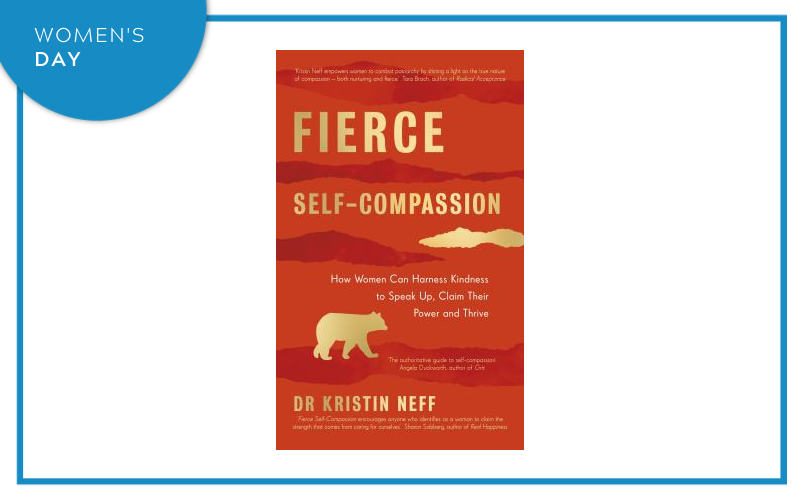 Fierce Self-compassion: how women can harness kindness to speak up, claim their power and thrive by Kristin Neff
Adult non-fiction 158.1082 NEF
A follow up from the bestselling Self-Compassion, this book shows why it is more urgent than ever that women acknowledge their areas of suffering, celebrate their inner voice and challenge the male-orientated status quo. The book draws on Kristin Neff's own life story as well as the stories of other women to show how readers can harness self-compassion and gain the strength, clarity and courage needed to be resilient and stand up for themselves in our male-dominated society. She explores core issues such as gender differences, why we aren't more compassionate to ourselves, and what women do for love. With expert research, concrete tools and easy-to-follow mindfulness practices, this book will empower women to let go of self-criticism, draw boundaries and become fierce.
See if Fierce Self-compassion is available on our catalogue or place a hold
She shoots, she scores! : a celebration of women's football by Catriona Clarke
Children's non-fiction 796.334 CLA
Discover everything you need to know about one of the world's fastest growing sports - women's football - with She Shoots She Scores. Capturing the triumph and despair of key moments in women's world football, this book is packed with pictures and profiles of the world's most skilful footballers - old and new - from Marta to Rapinoe. See where the world's best players train and showcase their talent. Includes in-depth coverage of every aspect of football, including rules and skills; fans and the media; managers and tactics.
See if She Shoots, She Scores is available on our catalogue or place a hold
Fantastically Great Women Who Saved the Planet by Kate Pankhurst
Children's non-fiction 920.72 PAN
Women have been making decisions that have helped protect our natural world from way before it was on a political agenda. Tackle the plastic problem with Isatou Ceesay by recycling waste into beautiful objects. Marvel at the intelligence of chimpanzees with Jane Goodall. Learn why it's important to shop fair trade and cruelty-free with Anita Roddick and The Body Shop. Resist devastating deforestation and plant seeds of change with Wangari Maathai. We're in an age when young people like Greta Thunberg are calling for those in power to 'wake up' and take action. But everyone has a part to play.
See if Fantastically Great Women Who Save the Planet is available on our catalogue or place a hold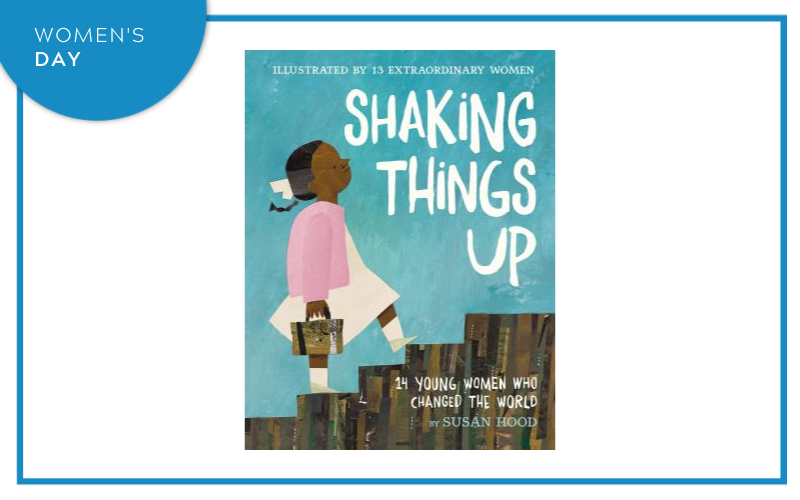 Shaking things up : 14 young women who changed the world by Susan Hood
Children's non-fiction 920.72 HOO
Shaking Things Up introduces fourteen revolutionary young women - each paired with a noteworthy female artist - to the next generation of activists, trail-blazers, and rabble-rousers. From the award-winning author of Ada's Violin, Susan Hood, this is a poetic and visual celebration of persistent women throughout history. In this book, you will find Mary Anning, who was just thirteen when she unearthed a prehistoric fossil. You'll meet Ruby Bridges, the brave six-year-old who helped end segregation in the South. And Maya Lin, who at twenty-one won a competition to create a war memorial, and then had to appear before Congress to defend her right to create. And those are just a few of the young women included in this book.
See if Shaking Things Up is available on our catalogue or place a hold